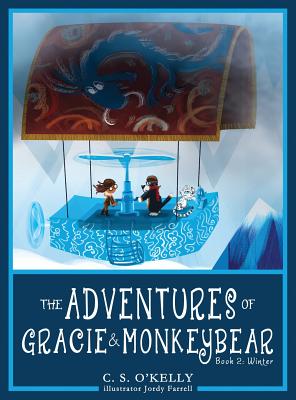 The Adventures of Gracie & MonkeyBear
Book 2: Winter
Hardcover

* Individual store prices may vary.
Other Editions of This Title:
Paperback (4/25/2017)
Hardcover (10/17/2017)
Paperback (11/21/2017)
Paperback (8/25/2017)
Paperback (11/21/2017)
Description
- Named to Kirkus Reviews' Best Books of 2017: The Adventures of Gracie & MonkeyBear, Book 2: Winter -
Kirkus Reviews (starred review)
The multilingual Gracie and her brainy dog MonkeyBear return for winter adventures in O'Kelly and Farrell's (The Adventures of Gracie & MonkeyBear: Book 1: Summer, 2017) second series entry.
MonkeyBear has been preparing for a journey, judging from his consultation of a map of Yeti sightings and books about Yeti, Nepal, and airships. He and Gracie soon find huge footprints in Grandma's yard, and a cry for help leads them to the cave of a Yeti whose yak has accidentally frozen its tongue to the ice. The authors celebrate science education by having Gracie smartly solve the problem by bouncing sunlight off of mirrors, but when it works too well, Gracie and MonkeyBear must carve an ice boat for themselves. Next, they rescue a snow leopard by turning their boat into an airship. Lastly, they encounter Denpa Druk, a Tibetan Thunder Dragon ("Finally, MonkeyBear, I get to speak Dzongkha," says Gracie), who needs help getting his magic stripes back--all before Grandma calls Gracie and MonkeyBear home. Overall, this sequel features just as many exciting encounters as the first book and as many delightful details in the pictures. One glorious illustration features fantastic cloud hues and sunlight while requiring the book to be turned sideways.
Fans are sure to look forward to what Gracie imagines in the spring.
-Kirkus Reviews (starred review)
Monkeybear Publishing, 9781946807021, 34pp.
Publication Date: October 20, 2017