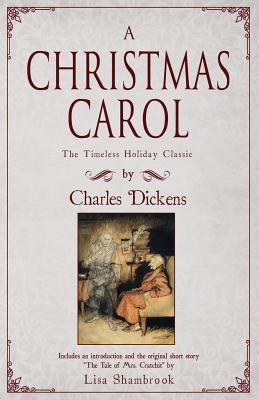 A Christmas Carol
Paperback

* Individual store prices may vary.
Other Editions of This Title:
Paperback (8/10/2013)
Paperback (9/5/2006)
Paperback (8/1/2010)
Paperback (5/12/2011)
Paperback (11/15/2017)
Paperback (9/16/2018)
Paperback (6/11/2019)
Paperback (5/31/2011)
Paperback (11/26/2010)
Paperback (7/30/2008)
Paperback (4/9/2012)
Paperback (8/20/2009)
Paperback (12/6/2012)
Paperback (6/10/2019)
Paperback (7/25/2013)
Paperback (6/10/2019)
Paperback (11/1/2017)
Paperback (4/21/2013)
Paperback (5/16/2009)
Paperback (11/1/2017)
Description
Marley was dead, to begin with. There is no doubt whatever about that.
And so begins the ultimate Christmas tale of ghosts, goodwill, and redemption.
On Christmas Eve in Victorian London the snow-covered city is filled with joy and frivolity. Everywhere people are rushing home to be with their loved ones in anticipation of the holiday. Everyone that is except for Ebenezer Scrooge, the wealthy old miser who rejects holiday cheer with the famous words, "Christmas, Bah Humbug " upon his lips.
But when Scrooge is visited by the ghost of his long-dead business partner, Jacob Marley, and informed that he will be visited by three Christmas spirits, he will soon learn there are more important things than money. Scrooge will be forced to look at the man he has become and make the choice to continue his chosen path or become the man he thought he could never be.
Originally published in 1843, A Christmas Carol by Charles Dickens is still considered one of the most beloved stories ever written. It has inspired countless films, book adaptations and most importantly, helped nurture the Christmas spirit each holiday season.
This edition also contains an all-new, original story "The Tale of Mrs. Cratchit" by Lisa Shambrook.
BHC Press/Signature, 9781946848345, 116pp.
Publication Date: November 6, 2018