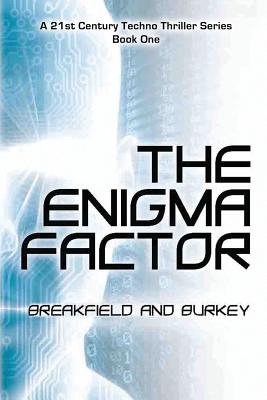 The Enigma Factor (Paperback)
Icabod Press, 9781946858009, 336pp.
Publication Date: March 8, 2017
* Individual store prices may vary.
Description
The age of information is really heady when you get into the bits and bytes like he was. Just stopping bad guys from wreaking havoc made him feel like a cyber-cowboy.
Explore the inner workings of technology in the fast-paced thriller The Enigma Factor. Authors Breakfield and Burkey weave a complex tale full of danger, intrigue, and international cyber wars in their joint fictional novel debut.
Jacob Michaels is a brilliant programmer who has spent his life in the field of information protection, considering it his mission to protect major organizations from the horrific damage cyber criminals can inflict.
But it is his own life he finds in danger when rogue cyber-criminals target Jacob for inclusion in their nefarious activities. Determined, he sets off on a mission that takes him into the furthest reaches of cyber technology and is provided support through unknown protectors.
With his best friend in tow, as well as a distractingly beautiful encryptionist, Jacob's journey ultimately sets off a chain reaction involving cyber theft, international hackers, romance and more danger than he could have ever imagined.
As Jacob closes in, however, he soon learns that the line between good guys and bad guys is increasingly blurry.