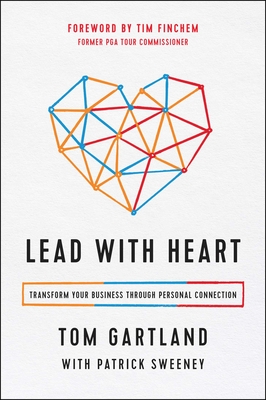 Lead with Heart
Transform Your Business Through Personal Connection
Hardcover

* Individual store prices may vary.
Other Editions of This Title:
Digital Audiobook (6/8/2018)
Description
If you want your company to thrive, you need to break one of the oldest unwritten rules of leadership.

Leaders in nearly every industry have learned to keep a professional "distance" between themselves and the people who report to them—to avoid getting too close or too personal. This unwritten rule of leadership is pervasive and quietly destructive, and, little by little, keeping ourselves at arm's length destroys trust, collaboration, and the very fabric of organizations.

When Tom Gartland became president of Avis Budget Group, North America, he wanted the corporate culture to become more "open and connected"—so he started with himself. His message was "business is personal—very personal." As he grew closer and connected more with those he was leading, he became a more effective leader, and those around him were inspired to create unprecedented results.

Tom found that when we truly open up and care about the people we work with, we can transform organizations into sanctuaries where people feel a deep connection to one another, a profound sense of being part of an important mission, and extraordinary engagement in their work. The result? Employees who feel valued generate exceptional profits. After applying this business philosophy at Avis, not only did Tom see an increase in employee morale, he also saw a significant increase in the company's bottom line.

In Lead with Heart, Tom provides an unconventional approach to business leadership, including advice and strategies on how to open yourself up as a leader, recognize potential in your employees, and increase employees' trust in you and the company. Lead with Heart is the revolutionary leadership book that will help managers and employees at all levels grow their businesses by connecting, honestly and meaningfully, with the people they lead.
Praise For Lead with Heart: Transform Your Business Through Personal Connection…
"Lead with Heart offers poignant, heartfelt lessons about being an authentic leader, and doing it with compassion, trust, commitment, care, and warmth. It is a brilliant clarion call—and a must-read!"

—Molly Biwer, SVP of public affairs and communications at Hallmark

"A handbook for any leader seeking sustained organizational excellence over short-term achievements by capturing people's hearts rather than commanding their hands."

—Dave Ridley, former CMO at Southwest Airlines

"In this inspiring book, Tom brings to life—through compelling personal stories and powerful leadership lessons—When you focus on people, the profits will follow . . . This book is a must-read for all leaders."

—Captain D. Michael Abrashoff, New York Times bestselling author of It's Your Ship

"There is no doubt this book will enlighten any leader and help them transform their business through personal connection. I had a behind-the-scenes look at the positive impact his approach had professionally with his team at Avis, and how family extended well beyond the Gartland name. "

—Steve Stricker, pro golfer and US Captain for the 2017 Presidents Cup

"Tom knows that strategy without culture does not exist and culture without committed and engaged team members is meaningless. Lead with Heart is an inspiring reminder to each of us of what it takes to move an organization—and yourself—to accomplish greater things in work and in life."

—Adam Johnson, chairman and CEO of NetJets

"Lead with Heart captures the phenomenal power of personal authenticity to effect change on those with whom you interact. But even more important, it gives you the tools to recognize and apply these leadership principles in your own life. You can use them to chart a new course starting now!"

—Chris Soder, former CEO and president of Priceline.com, Inc.
BenBella Books, 9781946885005, 166pp.
Publication Date: May 1, 2018
About the Author
Tom Gartland is a compassionate, strategic, and inspiring leader, who—by learning to connect his professional with his personal life—helped transform the culture of a Fortune 500 company into an engaged, collaborative, top-performing organization that experienced unprecedented growth. Described by his colleagues and clients as "compassionate, caring, strategic, driven, disciplined, competitive, confident, focused, decisive, authentic, passionate, and inspiring," Tom is currently a Member of the Board of Directors of two publicly traded companies (Xenia Hotels and ABM), a Senior Advisor to a private equity firm which was founded by the Rockefeller and Mellon families (AEA Investors), and the former President, North America for Avis Budget Group.

Patrick Sweeney is a consultant in leadership communications and a New York Times bestselling author. He specializes in helping executives develop their thought leadership, share their inspiring stories, and deliver key messages in ways that are truly compelling—positioning themselves and their organizations for success.