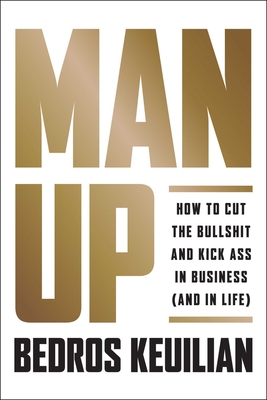 Man Up
How to Cut the Bullsh!t and Kick @ss in Business (and in Life)
Hardcover

* Individual store prices may vary.
Other Editions of This Title:
Digital Audiobook (11/12/2018)
Description
"But I can't . . ."

"There's no way . . ."

"It's impossible . . ."

Enough. Get off your ass and make your "someday" goals a priority—today.

After years of coaching and consulting hundreds of startup rookies as well as seasoned entrepreneurs, executives, and CEOs, Bedros Keuilian realized that most people who want to start a business, grow an existing business, author a book, make more money, or make a bigger impact usually take the long, slow, painful way to get there . . . and more than 80 percent of entrepreneurs never get to their desired destination or achieve their full potential in business. They treat their dream as if it were merely a hobby and dip their toes in the water, but they never commit to diving in—you get the idea.

It's time to cut the bullshit excuses. Everyone has a gift, a purpose. It's your duty to figure out what your gift is and how you're going to share it with the world.

Man Up: How to Cut the Bullshit and Kick Ass in Business (and in Life) is your guide to doing exactly that. Keuilian, founder and CEO of Fit Body Boot Camp and known as the "hidden genius" behind many of the most successful brands and businesses throughout multiple industries, will show you how to break out of the sea of mediocrity, get singularly focused on your purpose, and do what it takes—not only to achieve but dominate your goals.

With Keuilian's no-nonsense approach in both business and personal spheres, you'll be able to define your purpose and have clarity of vision—and a plan—to make the quantum leap. Whether it's creating and growing a company, leaving a legacy, making a difference, or launching a new brand, you will discover how to use your passion, purpose, and sheer grit to overcome any adversity that attempts to derail your progress.

If there's an area of your life in which you need to man up, this book will get you there.
Praise For Man Up: How to Cut the Bullsh!t and Kick @ss in Business (and in Life)…
"The business landscape is always changing and full challenges and risks. In his book Man Up, Bedros Keuilian reveals a powerful secret that drives continues growth, profits and industry leadership. A must read for all entrepreneurs!" 

—Lewis Howes, New York Times bestselling author of The School of Greatness

"Bedros is a master at communicating the leadership skills and mindset hacks necessary for massive success in both your business and in life. Man Up delivers the goods in the most brutally honest way possible!" 

—Andy Frisella, CEO of 1st Phorm International and Host of The MFCEO Project podcast

"Bedros is an insanely SMART guy. He's a great husband, dedicated dad and a master at building EMPIRES. It's hard to be masterful at one of those things . . . but he's great at all three! My point is if you want to up level your life and business, you've got to let your brain absorb the things Bedros talks shared in this book!" 

—Shanda Sumpter, founder of HeartCore Business

"From the NFL locker room to the boardroom, effective leadership is the single biggest determining factor for an athlete's or entrepreneur's success or failure. Speaking from personal experience, there's no one more qualified to teach entrepreneurial leadership than Bedros Keuilian." 

—Steve Weatherford, Super Bowl Champion with the New York Giants
BenBella Books, 9781946885036, 192pp.
Publication Date: September 18, 2018
About the Author
Bedros Keuilian is a serial entrepreneur with multi-million dollar generating businesses in franchising, software, digital marketing, and business consulting. He's known as the hidden genius that the entrepreneurs and business experts turn to when they want to quickly scale their business, boost sales and and increase profits.

Bedros is best known for his ability to help his clients quickly establish expert and authority positioning and become the predominant brand in their field. His sales, marketing, business systems are the secret weapon used by thousands of successful businesses, bestselling authors, and entrepreneurs who want to grow their businesses to it's fullest potential without the stress, frustration, or uncertainty that most entrepreneurs experience.