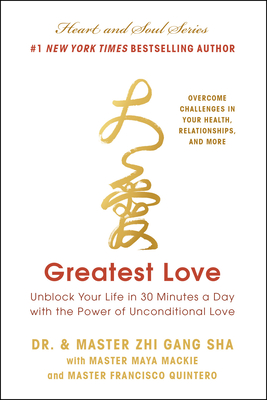 Greatest Love (Hardcover)
Benbella Books, 9781946885043, 116pp.
Publication Date: November 14, 2017
* Individual store prices may vary.
Description
Feel the greatest love. Experience the greatest love. Embody the greatest love.
The greatest love is love that truly lasts and has no conditions. It is the love of a mother for her child. It is the love we read about in poems. It is the love we long to have.
We all have challenges that keep us from experiencing this greatest love. These challenges may present themselves in your health, relationships, or finances. With this book, learn how to unblock your life in 30 minutes a day with the power of unconditional love, the greatest love, which surpasses the human and enters the love of all creation.
Practice the simple, joyful exercises within this book, and receive powerful blessings from Dr. and Master Zhi Gang Sha, a world-renowned healer, humanitarian, spiritual master, and 11 time New York Times bestselling author, Master Maya Mackie, who also embodies the purest love and compassion, as well as Master Francisco Quintero.
The power of greatest love can melt all blockages and harmonize all separation and all that is not love. Carry this treasure with you to apply its wisdom anywhere, anytime, to enrich and bless your health, relationships, finances, intelligence, and every aspect of life.
About the Author
Dr. and Master Zhi Gang Sha is a world-renowned healer, Tao Grandmaster, philanthropist, humanitarian, and creator of Tao Calligraphy. He is the founder of Soul Mind Body Medicine(TM) and an eleven-time New York Times bestselling author. An MD in China and a doctor of traditional Chinese medicine in China and Canada, Master Sha is the founder of the Institute of Soul Healing and Enlightenment(TM) and the Love Peace Harmony Foundation(TM), which is dedicated to helping families worldwide create happier and healthier lives. A grandmaster of many ancient disciplines, including tai chi, qigong, kung fu, feng shui, and the I Ching, Master Sha was named Qigong Master of the Year at the Fifth World Congress on Qigong. In 2006, he was honored with the prestigious Martin Luther King, Jr. Commemorative Commission Award for his humanitarian efforts, and in 2016 Master Sha received rare and prestigious appointments as Shu Fa Jia (National Chinese Calligrapher Master) and Yan Jiu Yuan (Honorable Researcher Professor), the highest titles a Chinese calligrapher can receive, by the State Ethnic of Academy of Painting in China. A Master Teacher personally trained by Master Sha, Master Maya Mackie is dedicated to empowering humanity. She deeply believes that anyone can transform any challenge into an opportunity for growth and, through her great compassion, has helped thousands of people around the world overcome life challenges. Searching for a comprehensive healing technique that could heal the root cause of sickness or imbalance, Master Maya has studied several healing modalities and aspects of traditional Chinese medicine since an early age. She discovered Master Sha's book The Power of Soul in 2009, which led her to study seriously and to devote her life to empowering people to heal themselves and others. Now one of the top trainers at the Tao Academy, Master Maya teaches people how to apply soul power to every aspect of life, including health, relationships, finances, business, pets, and more.