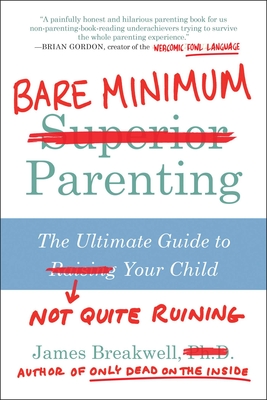 Bare Minimum Parenting
The Ultimate Guide to Not Quite Ruining Your Child
Paperback

* Individual store prices may vary.
Other Editions of This Title:
Digital Audiobook (11/5/2018)
MP3 CD (11/6/2018)
Compact Disc (11/6/2018)
Compact Disc (11/6/2018)
Description
This isn't a book about overachieving at parenting. 

This isn't even a book about achieving exactly the right amount. 

This is a book about doing as little as possible without quite ruining your child. 

Overachieving parents want you to believe the harder you work, the better your kid will turn out. That lie ends now. 

The truth is most kids end up remarkably unremarkable no matter what you do, so you might as well achieve mediocrity by the easiest possible route. The goal of "bare minimum parenting" is to turn your child into a functional adult with only a fraction of the effort spent by super moms and dads. 

If you do it right, your kid will be no better or worse off than their kids, but with more free time left for you. That's more valuable than all the participation trophies in the world.

In Bare Minimum Parenting, amateur parenting expert James Breakwell will teach you to stop worrying and embrace your child's destiny as devastatingly average. To get there, you'll have to overcome your kid, other parents, and yourself, all of whom will push you to do more than is absolutely necessary. Honestly, by reading this far, you're already trying too hard. But don't stop now. You're exactly the kind of person who needs this book.
Praise For Bare Minimum Parenting: The Ultimate Guide to Not Quite Ruining Your Child…
"A painfully honest and hilarious parenting book for us non-parenting-book-reading underachievers trying to survive the whole parenting experience. You know, I really could have used this book before my kids drove me insane. Next time write faster, James."

—Brian Gordon, creator of the webcomic Fowl Language

"James Breakwell's "Bare Minimum Parenting: The Ultimate Guide to Not Quite Ruining Your Child" is a witty and refreshing take on parenting in a modern world. I have always enjoyed following James' parental trials and tribulations on social media and it's fun to seeing his musings come to life in this essential handbook!"

—Rebecca Mader, actress on Once Upon a Time and Lost

"I've never felt so guilt-free ignoring my child to read a book."

—Laura Perlongo, Shorty Award-winning cohost of the web series We Need to Talk and guest commentator on MTV's Catfish

"Breakwell has a hit . . . uproariously funny, and at times, unexpectedly poignant."

— Liliana Hart, New York Times bestselling author and mom of five

"Oh, parents! Read this book and free yourself from the blood sport that parenting has become! With humor, insight and honesty, smart-ass James Breakwell tells you what no other parenting book has the guts to say—relax. You and the kids will be just fine."

—Kristan Higgins, New York Times bestselling author

"James Breakwell's Bare Minimum Parenting is a rollicking, entertaining manifesto for the half-assed revolution. Reading it was WAY more fun than writing my own books and raising my own kids."

—Carolyn Parkhurst, New York Times bestselling author of The Dogs of Babel and Harmony

"As a father of three children ages 25, 17, and 3, who are all reasonably well adjusted and jail-free, James Breakwell's views on kids and parenting speaks to my soul. This book brings balance to the 300,000 misguided 'how to raise the perfect child' books out there that increase our stress level as if answering 500 why questions from a toddler every day weren't stressful enough! If you have a kid, are planning on having a kid, or have friends who have kids and want to hold on to some of your sanity, this book is a must-read!"

—Jaime Casap, chief education evangelist at Google and free range parent

"I don't have any kids, and still I loved this book. I laughed and laughed, and then I reached the part about raising a child in your thirties or forties and I cried."

—David Litt, former speechwriter for President Obama and bestselling author of Thanks, Obama

"A parenting book like no other. Wise, hilarious and a must-read for harassed, guilt-ridden parents everywhere. Parenting doesn't have to be high maintenance. Don't believe me? Read this."

—Vicki Psarias, bestselling author of Mumboss and founder of Honestmum.com
BenBella Books, 9781946885326, 256pp.
Publication Date: November 6, 2018
About the Author
James Breakwell is a professional comedy writer and amateur father of four girls ages 7 and under. His Twitter account @XplodingUnicorn has more than 640,000 followers who check in with him daily as he fails as a parent and a human being.

Breakwell's comedy went viral in April 2016 when Buzzfeed featured his kid-centric jokes in an article that quickly drew more than 2 million views. His @XplodingUnicorn account grew by more than 400,000 followers in the following months. His jokes have been featured by USA Today, US Magazine, DailyMail.com, Metro.co.uk, Huffington Post, 9GAG, theCHIVE.com, CollegeHumor.com, various ABC and Fox TV news affiliates, and countless other TV, radio, and Internet outlets.

His articles have appeared in Reader's Digest, The Federalist, and AskMen. He has been a guest multiple times on HLN's The Daily Share, and they haven't banned him yet. He can open most jars on the first try and is only a little afraid of the dark. He still can't load the dishwasher right.