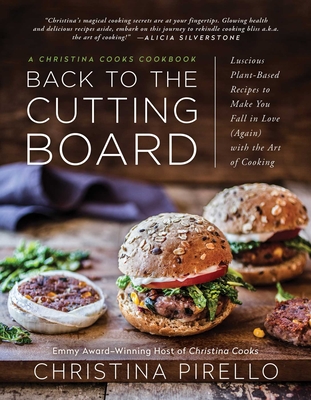 Back to the Cutting Board
Luscious Plant-Based Recipes to Make You Fall in Love (Again) with the Art of Cooking
Paperback

* Individual store prices may vary.
Description
When did cooking become so exhausting? Thanks to information overload and the pressure to impress, we stress over every recipe and every meal. 

Back to the Cutting Board helps you set aside all that tension and pretense and rediscover a pure, joyful passion for the art of cooking. 

Professional chef and Emmy Award–winning host of PBS's Christina Cooks, Christina Pirello, takes you on a journey to re-engage with the soul of food preparation, from the slice of the knife to the aroma of steam rising from a perfectly roasted winter squash. With simple, delicious recipes and sage advice on streamlining your kitchen and your cooking, Christina empowers you to create personal wellness by nourishing your body, mind, and spirit. 

Through more than 100 enriching plant-based recipes that pair the freshest ingredients with cooking techniques meant to optimize their natural, native flavors, Christina reintroduces you to the creative potential of food and transforms the kitchen from into a nurturing sanctuary. 

Inside, discover wonderful and nourishing dishes, including:

   • Cranberry–Pecan Bread
   • Chickpea Farro Soup
   • Sweet Root Vegetable Stew
   • Pasta with Broccoli–Pine Nut Pesto
   • Stir-Fried Cauliflower & Mustard Greens in Lemon–Sesame Sauce
   • Black Bean Burgers
   • Cocoa Madeleines
   • Orange-Scented Steamed Pudding 


In this modern world, with far too much ego at play when it comes to something as simple and beneficial as cooking great food, Christina Pirello invites you to take a step back and truly enjoy every step of the process. 

Finding the joy in cooking has never been more simple!
Praise For Back to the Cutting Board: Luscious Plant-Based Recipes to Make You Fall in Love (Again) with the Art of Cooking…
"Back to the Cutting Board is the most fun you will ever have in a cookbook!! It is filled with great recipes—of course, it's by Christina Pirello!—and it also has great tips and robust nutrition information on every page. As your guide, Christina shares her extraordinary knowledge, wisdom, and personality. Soon, you will know what makes good food really good, and Christina will make you fall in love with cooking again."

—Neal D. Barnard, MD, FACC, bestselling author of Dr. Neal Barnard's Program for Reversing Diabetes

"Christina's magical cooking secrets are at your fingertips. Glowing health and delicious recipes aside, embark on this journey to rekindle cooking bliss a.k.a. the art of cooking! With Christina as your guide, the stress associated with tackling a meal will be alleviated and replaced with curiosity, intuition, simplicity, and play. How awesome is that?" 

—Alicia Silverstone, award-winning actress, bestselling author of The Kind Diet, animal rights and environmental activist, and entrepreneur

"Back to the cutting board? Gladly! This wonderful new book from Christina is full of excellent ideas that will make you fall in love with cooking again. If you have drifted from the kitchen it will inspire you to get back to it. If you are new to cooking then you couldn't ask for a better 'in.' Vegan cooking is having its moment, and Christina's new book perfectly captures the spirit of what's happening in today's food world."

—Rich Landau, chef/owner of The Vedge Restaurant Group, James Beard nominee, and bestselling author

"There is joy in Christina's cooking. Because her food isn't just delicious and beautiful. It's also wholesome in ways that draw you in, making you simply want to eat and be better. And her recipes make that easy."

—J.M. Hirsch, editorial director, Milk Street Magazine

"In Back to the Cutting Board, Christina introduces the kitchen tools, gadgets, techniques, and ingredients as if they are old friends that have been patiently waiting to re-connect with us and nourish us. She shares many good reasons why it's essential that we get back inside the kitchen. And, once you're there . . . your body and mind will be deeply nourished by Christina's delicious recipes. Don't wait one more second! Open up this book, connect with your old friends (and yourself), and start cooking!"

—Andrea Beaman, HHC, chef, herbalist, and author of Happy Healthy Thyroid

"What Christina has written here is unlike any cookbook you've ever read. She presents a philosophy that uses the kitchen as a tool to allow you to connect with your true self. Yes, the recipes in here are delicious and can help you reclaim or optimize your health—and in Christina's case, they actually saved her life. But you will learn how to not just nourish your body, but your soul—by finding a deeper meaning in the so-called 'chore' of cooking."

—Chef Robert Irvine
BenBella Books, 9781946885364, 272pp.
Publication Date: September 4, 2018
About the Author
An Emmy Award-winning television personality, Christina Pirello, MFN, is one of America's preeminent authorities on a healthier lifestyle utilizing natural and whole foods. This bright, free-spirited, vivacious redhead with a radiant personality delivers a much needed message to the world.  She's made it her purpose in life to show the world that everyone can look their best and feel great too, by learning to correctly select the best ingredients available. 

Christina's love affair with food began at a young age when she spent many happy hours cooking with her mother, who centered the family life in her Italian kitchen. That joy prepared Christina to understand the healing power of food. An understanding Christina would put to its test at age 26 when she was diagnosed with terminal leukemia. A chance meeting with her now-husband Robert Pirello would change her life forever. Robert, a whole foods advocate, helped Christina change her lifestyle and diet based on healthy eating incorporating whole and unprocessed foods. Christina overcame the odds and in the process developed an expertise in cooking with whole natural foods. 

From that time, she was utterly convinced of the close relationship between diet and health. She found her life's calling was to help others discover the importance of this relationship in their own lives. Christina studied and became an expert in Traditional Chinese Medicine, Ayurveda, acupuncture, macrobiotics and earned a Masters Degree in Nutrition and has authored seven cookbooks on the subject of healthy eating and natural living. 

Today, almost 34 years after her illness, Christina is a glowing example and inspiration illustrating that food choices have an enormous impact on health and well-being. Utilizing her internationally-respected TV show Christina Cooks and her many books, she is "changing the health of the world one meal at a time."