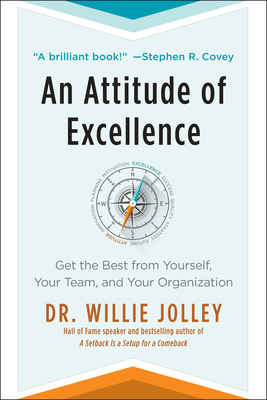 An Attitude of Excellence
Get The Best From Yourself, Your Team, and Your Organization
Hardcover

* Individual store prices may vary.
Description
You imagine a "new and improved" version of yourself—one who has achieved your goals and reached your definition of success. But you stop at wanting to be better because you don't feel you have the tools to achieve it.

You do have the power to make yourself into a winner. Success isn't a matter of chance—it's a matter of choice.

It all comes down to your attitude and a mindset to pursue excellence.

When you make the conscious choice to develop an attitude of excellence, you will achieve more, enjoy more, have better relationships, take better care of yourself physically and mentally, and vastly improve the quality of your day-to-day life. Armed with a positive attitude and the determination to pursue excellence, plus a coach to help you stay focused, you will become the best version of yourself.

Dr. Willie Jolley is a world-renowned speaker and motivational coach. He is the expert Ford Motor Company turned to while on the brink of bankruptcy, and he helped the company go on to reject a government bailout and to reach billion-dollar profits. In this powerful new book, An Attitude of Excellence: Get the Best from Yourself, Your Team, and Your Organization, he teaches readers how to achieve more in their lives—both professionally and personally.

Dr. Jolley's work has inspired millions with a simple message: The best way to grow your future is to grow yourself, and the best way to grow an organization is to grow the people in that organization. Why? Because great people will give great service, while negative people will kill your future.

This eye-opening book features T.I.P.S. (Tips, Ideas, Principles & Strategies) everyone can use to enhance the quality of our relationships and our lives, both at work and at home, using the power of an attitude of excellence.
Praise For An Attitude of Excellence: Get The Best From Yourself, Your Team, and Your Organization…
"Dr. Willie Jolley has written a powerful new book . . . Share this with every member of your team!"

—Alan Mulally, former CEO of Ford Motor Company and Boeing Commercial Airplanes

"My friend Dr. Willie Jolley has written a book that is going to blow your socks off! He is not only one of the most positive people on the planet, but helps you and your team to grow your positive thinking and positive attitude! Read this book, then re-read it, then share it with everyone you know . . . because everyone needs an attitude of excellence!"

—Wally Amos, founder of Famous Amos

"When I thought about a way to inspire my organization, I looked at a number of business books and a number of personal development books . . . but then I got hold of An Attitude of Excellence, which was both in one book! And the response by my team has been incredible!" 

 —Eric Cevis, senior vice president and group president of Verizon Partner Solutions

"If you are in the hospitality industry, or any industry where you serve customers, this should be required reading for people at all levels of your organization. Dr. Willie Jolley is a master storyteller who is able to use words to captivate readers and motivate them to improve their performance and productivity. The anecdotes and ideas found in An Attitude of Excellence will inspire your team to wow and serve your customers with a positive attitude and commitment to excellence each and every day!"

 —Doug Ridge, area general manager at the Gaylord National Resort and Convention Center  

"The concept of an attitude of excellence is essential to ensure positive forward movement in business and life. I have bought boxes of the book and I have given this book to team members, new hires, and also to my son along with his high school friends! This book works!"

—Gail Smith-Howard, general manager at Hyatt Regency Washington

"What an incredible book! I have used An Attitude of Excellence with three different organizations that I have led  . . . Swing for the fences, expect to win, fail fast, and believe that you can win by a wide margin. The oxygen is very thin at this level of success but Willie Jolley's principles will help you enjoy the sweetness at the top of the mountain. Enjoy and get ready to shake and bake!"

—Tom Raponi, former vice president of GM Cox Media, KTVU/KICU/WFXT

"Our sales team really enjoys the extra inspiration Willie Jolley's book provides in helping us to stay focused and never lose sight of our goals and mission. This book has impact! It helps us to remember the basics and run the play, and play to win!"

—Nancy Terry, senior vice president of US Fitness  

"I read An Attitude of Excellence and it was so impactful that I have been sharing with my team members in both our locations in Maryland and Georgia. This is the book that I have been praying for to help us grow our church. It inspires, informs, and motivates our people to excellence! I was so filled up by the wisdom in the book that I shared it with the people in my church. The result was that we saw an immediate positive response after people read the book! I highly recommend this book! It will change you, your people, and your organization!"

—Deron Cloud, lead pastor at the Soul Factory Church
BenBella Books, 9781946885401, 280pp.
Publication Date: October 16, 2018
About the Author
 Dr. Willie Jolley is a world renowned speaker, singer, author, and media personality. In 2017, he was named "A Legend of the Speaking Industry." In 2005, he was inducted into the prestigious Speaker Hall of Fame, and He is the speaker who was chosen to replace the legendary Zig Ziglar on the national Get Motivated tour, upon Zig's passing. Back in 1999, he was named "One of the Outstanding Five Speakers in the World" and "Motivational / Inspirational Speaker of The Year" by the 175,000 members of Toastmasters International. Dr. Jolley is the host of the #1 Motivational Show in America on Sirius XM, daily radio preceding Steve Harvey on WHUR FM and host of a popular podcast on IHeart Radio. He is the author of several international bestselling books including It Only Takes A Minute To Change Your Life, A Setback Is A Setup For A Comeback, and Turn Setbacks Into Greenbacks. Many know him as the speaker who helped Ford Motors go from the brink of bankruptcy in 2006 to be able to reject a government bailout in 2009. He speaks globally for many Fortune 100 companies and also broadcasts globally on his new JolleyTV network.