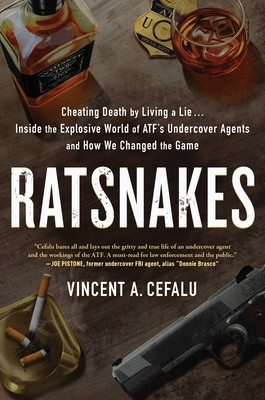 RatSnakes
Cheating Death by Living A Lie: Inside the Explosive World of ATF's Undercover Agents and How We Changed the Game
Hardcover

* Individual store prices may vary.
Other Editions of This Title:
Digital Audiobook (5/27/2019)
MP3 CD (5/28/2019)
Compact Disc (5/28/2019)
Compact Disc (5/28/2019)
Description
Get ready to infiltrate the dangerous, secret world of criminals and cover identities by way of the Bureau of Alcohol, Tobacco, Firearms, and Explosives (ATF)—where the world's greatest undercover agents are known as RatSnakes.

RatSnakes are rarely, if ever, visible to the public they move among and risk their lives to protect. In fact, thanks to their cover personas, they're often assumed to be members of the clandestine criminal world they investigate. Real-life undercover work is a far cry from the sexy, candy-colored world you've seen in Hollywood movies. Only those strong and clever enough get inside and survive.

Vincent A. Cefalu would know. He spent 30 years as an ATF undercover operative, in assignments ranging from the Symbionese Liberation Army to Asian organized crime. He has infiltrated notorious outlaw motorcycle gangs as well as splinter groups of the Ku Klux Klan, and in RatSnakes he provides a transparent look at the organization and the operatives with whom he risked his life.

Part field guide, part heart-pounding thrill-ride, Cefalu takes readers on a tour of what it's like to confront death on a daily basis. En route, he gives us a look at the on-the-job techniques of kicking in doors, orchestrating "street theater" to ensnare criminals, and making high-stakes gun buys. His irreverent, explicit stories from the inside are a mix of danger and unexpected hilarity that will have readers laughing one minute and then biting their nails when things break bad.

Immersive and brutal, RatSnakes offers an in-depth and eye-opening look into the lives of an elite group of men and women who volunteer to do things most couldn't and wouldn't stomach. Civilians with common sense and good judgment run from danger, while RatSnakes sprint toward it—smiling.
Praise For RatSnakes: Cheating Death by Living A Lie: Inside the Explosive World of ATF's Undercover Agents and How We Changed the Game…
"RatSnakes is more thrilling than the best thriller you have ever read. You will surely enjoy reading this heart-pounding book and fall in love with the ATF RatSnakes."
—Washington Book Review

"Cefalu bares all and lays out the gritty and true life of an undercover agent and the workings of the ATF. A must-read for law enforcement and the public."

—Joe Pistone, former undercover FBI agent, alias "Donnie Brasco"

"The law enforcement undercover community is limited to those who are born with the ability to take on some of the most dangerous, 'up close and personal' assignments. In that select group, Vince Cefalu is one who stands out because of his bravery and his ability to walk undetected among the most hardened criminals."

—Joaquin "Jack" Garcia, former undercover FBI agent and New York Times bestselling author of Making Jack Falcone

"Vincent Cefalu is the real deal. In RatSnakes, he takes us on a wild ride through his dark world of paranoia, danger, fear, hard living, hard drinking, and the chase. In the end, it's a gripping story revealing how some of our most effective federal undercover agents earn their chops, make their living, and work to protect their fellow Americans in ways that usually go unrecognized."

—Sharyl Attkisson, host of Full Measure and former CBS investigative correspondent

"Retired ATF undercover agent Vince Cefalu has created a read that's going to leave readers with their mouths open. If you've never used the terms, 'oh my god,' 'holy shit,' or 'what the f*&%$,' Ratsnakes is going to introduce you to a new emotional feeling. It's not just about real world undercover operations; it's about the people and the agencies willing to operate behind enemy lines."

—William Queen, ATF special agent (retired) and New York Times bestselling author of Under and Alone

"With each page, Vincent Cefalu brings the heart-pounding reality of the street and tough undercover work to life. If you're looking for a read you won't be able to put down, this is it."

—Katie Pavlich, New York Times bestselling author of Fast and Furious, journalist, and editor of Townhall.com
BenBella Books, 9781946885968, 319pp.
Publication Date: May 28, 2019
About the Author
Vincent A. Cefalu was born and raised just north of San Francisco in Marin County, California. After a troubled youth and lackluster academic performance, he enlisted in the US Marines, where he spent six years in the military police and ultimately served in a classified Special Operations unit. The hook was set. Continuing to pursue his law enforcement career, he joined the Athens, GA, police department while finishing his bachelor's degree in criminal justice in hopes of securing a position in federal law enforcement. After being hired by and spending a couple years with the US Customs Service chasing drug smugglers in south Florida, Vince had a life-changing experience with some very scary ATF special agents, and, as they say, "the rest is history." Vince had found a home. Later, earning a master's degree in the psychological sciences, Vince's trajectory took him into the shadows of undercover work, SRT (special response team member and hostage negotiations).