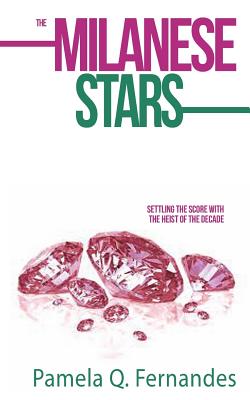 The Milanese Stars
Paperback

* Individual store prices may vary.
Description
The heist of the decade and yet, no one would have guessed . . . it was her. The Milanese stars are missing from the famous Buccatino boutique. When American insurance investigator, Samuel Keane is called in to liaise with the polizia, he finds the whole heist odd. Not only are the Milanese stars, a set of five pink diamonds, not listed in the inventory of stolen items, worse, none of the surrounding owners or passersby witnessed a thing. Samuel is anxious to solve the case and partners with local caf owner, Vita, who has a very good vantage point to watch Buccatino. Vita herself has quite the interest in Samuel. He's a decent man, not to mention delicious, and he's smart. But the last thing she wants is to be caught. After all, Vita has planned the heist for years. Five to be exact. The only thing she didn't plan is falling in love with the young American. As Samuel digs further into the history of the stars, he discovers Vita's friends and her physically challenged sister are all connected to them. He learns of Vita's past and the loneliness she's resigned herself to in an effort to protect herself from loss. Samuel also learns Don Giovanni, proprietor of Buccatino, is no ordinary man. He's a local Mafioso and will stop at nothing till he gets the stars. The more Samuel investigates, the more dangers he and Vita face. Can he solve the case and what will happen with Vita? What will he do when we learns the heist of the decade isn't about stealing pink diamonds . . . it's about settling the score.
Touchpoint Press, 9781946920461, 154pp.
Publication Date: May 3, 2018
About the Author
Pamela Q. Fernandes is a doctor, author and medical writer. She's the author of the Christian nonfiction series, "Ten Reminder," romance novellas like Seoul-Mates, Cinders of Castlerea and Under a Scottish Sky. She has also written many speculative short stories; Joseon Fringe, Where is Ally and Raven's Call. Pamela was born and raised in Kuwait. When not writing and seeing patients she loves to bake brownies and unsuccessfully learn the piano. She runs the Christian Circle Podcast twice a month.