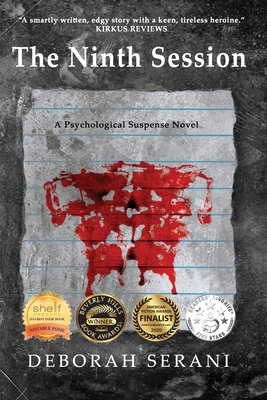 The Ninth Session (Paperback)
Touchpoint Press, 9781946920751, 196pp.
Publication Date: September 26, 2019
* Individual store prices may vary.
Description
The Ninth Session pits psychologist, Dr. Alicia Reese, against a secretive new patient and her own conscience.
About the Author
Dr. Deborah Serani is an award-winning author and psychologist who has been in practice for thirty years. She is also a professor at Adelphi University and is a go-to media expert for psychological issues. Her interviews can be found in Newsday, Psychology Today, The Chicago Tribune, The New York Times, The Associated Press, and affiliate radio programs at CBS and NPR, among others. Dr. Serani has also been a technical advisor for the NBC television show, Law & Order: Special Victims Unit. The character Judge D. Serani was named after her.
Praise For The Ninth Session…
"The Ninth Session by Deborah Serani has to be one of the best books I have read this year. I literally could not put it down. The author is an absolute master of building tension and suspense. There are some surprising twists in the plot, which I did not foresee but which were absolutely superb. I highly recommend this book to anyone who loves a suspense novel. But definitely not to be read in the dark." - Lesley Jones for Readers' Favorite

"A fast-paced, suffocating psychological thriller featuring a series-worthy heroine. One of the year's best thrillers." - BestThrillers.com

"Author/psychologist Serani's first foray into fiction is a taut, suspenseful tale...A smartly written, edgy story with a keen, tireless heroine." - Kirkus Reviews

"Deborah Serani has succeeded in writing an exhilarating, heart-pumping psychological thriller. The Ninth Session grabs the reader right from the first pages. Plan on clearing the decks of to-do's; you will want to read this right on through until you turn the last page." - Mary H. Siemes, Ph.D., Psychoanalyst, Los Angeles, California

"This psychological and suspenseful page turner takes you on a journey through Long Island's Gold Coast and leaves you wanting more." - John Edward, Bestselling author of Fallen Masters

"Deborah Serani's thriller The Ninth Session pits a psychologist against a secretive new patient and her own conscience. Characters' actions and reactions direct the rising tension... and the incorporation of aspects of deaf culture is fascinating." - ★★★★ Foreword, Clarion Reviews