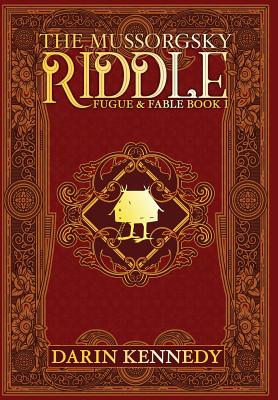 The Mussorgsky Riddle
Fugue & Fable - Book One
Hardcover

* Individual store prices may vary.
Other Editions of This Title:
Paperback (12/4/2018)
MP3 CD (5/24/2016)
Paperback (1/12/2015)
Description
"Unique and fresh... Like nothing else out there "
Mercedes Lackey
New York Times Best Selling Author of Firebird and Black Swan

"Imaginative, thoughtful, and ambitious."
A.J. Hartley
New York Times and USA Today Best Selling Author of The Mask of Atreus and Steeplejack

"Genius, madness, magic and murder in a well-spun, suspenseful tale."
Gail Z. Martin
Author of Deadly Curiosities and Scourge

Psychic Mira Tejedor possesses unique talents that enable her to find anything and anyone, but now she seeks a comatose boy wandering lost inside the labyrinth of his own mind. 13-year-old Anthony Faircloth hasn't spoken a word in weeks and with each passing day, his near catatonic state worsens.

Pulled into Anthony's mind, Mira finds the boy's psyche shattered into the various movements of Modest Mussorgsky's classical music suite, Pictures at an Exhibition. As she navigates this magical dreamscape drawn from Anthony's twin loves of Russian composers and classical mythology, Mira must contend with gnomes, troubadours, and witches in her search for the truth.

The real world, however, holds its own dangers. The onset of Anthony's mysterious malady coincides with the disappearance of his older brother's girlfriend, a missing persons case that threatens to tear the city apart. Mira discovers that in order to save Anthony, she will have to catch a murderer who will stop at nothing to keep the secrets contained in Anthony's unique mind from ever seeing the light.
Falstaff Books, LLC, 9781946926685, 332pp.
Publication Date: December 27, 2018