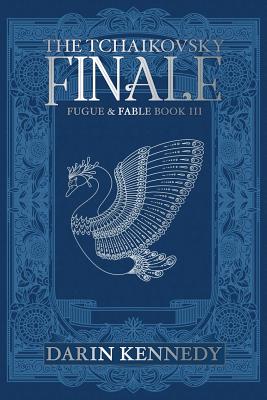 The Tchaikovsky Finale
Paperback

* Individual store prices may vary.
Other Editions of This Title:
MP3 CD (10/29/2019)
Compact Disc (9/1/2020)
Paperback (12/19/2017)
Description
"Unique and fresh... Like nothing else out there "
Mercedes Lackey
New York Times Best Selling Author of Firebird and Black Swan

"Darin Kennedy's lavish fantasy worlds, both whimsical and dark, bring Russian classical music to life in a way never done before. A spectacular end to the story of Mira and Anthony, The Tchaikovsky Finale will delight readers with its originality and heart."
J. Matthew Saunders
Author of Daughters of Shadow & Blood

"A beautiful, riveting masterpiece... The perfect conclusion to an incredible story."
Candice Carpenter
Reviewer - We Geek Girls

Psychic Mira Tejedor lies comatose in the wake of her second battle with the devious Madame Versailles, but her sacrifice was not in vain. Though at great cost, her nemesis is no more, her love has returned to the land of the living, and twelve innocent girls are back with their families. Still, young Anthony Faircloth can't escape the notion there must have been another way.

Obsessed with freeing Mira as Mira once freed him, Anthony works to rekindle their special link and soon meets with more success than he knows what to do with. Two distinct worlds, both forged in the imagination of Pyotr Ilyitch Tchaikovsky, threaten to consume his life. By the still waters of Swan Lake, Anthony assumes the guise of a man named Benno and must help Prince Siegfried defend the Swan Princess, Odette, from the machinations of a dark sorcerer. In the Stahlbaum house, he takes on the role of a boy named Fritz who, under the command of the Nutcracker Prince, must save his sister Clara from the onslaught of the Mouse King and his army of rodent soldiers. At the intersection of the two disparate settings lies yet another mystery: both Odette and Clara wear Mira's face. And these intertwining perils are but shadows of the real danger.

Back in the real world, a menacing figure from Mira's past has escaped from prison and now stalks her on both sides of the veil of dream. Anthony must bring Mira out of her catatonic state so that she can fight one last time, or her life and the lives of all she loves will be lost.
Falstaff Books, LLC, 9781946926739, 314pp.
Publication Date: January 3, 2019