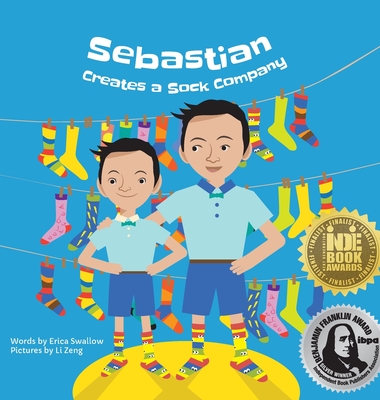 Sebastian Creates A Sock Company (Entrepreneur Kid)
Hardcover

* Individual store prices may vary.
Description
Five-year-old Sebastian Martinez, with the help of his older brother, Brandon, turns his love for socks into a business that not only makes wacky socks, but also enables the duo to finally revamp the school dress code. Follow along as the brothers become Entrepreneur Kids
The Entrepreneur Kid book series showcases the true stories of real kid entrepreneurs who have started and continue to manage real businesses. The goal of the series is to inspire children everywhere to think creatively and solve the problems they see around them. This book, about Sebastian Martinez, is one of four in the series
ADVANCE PRAISE
"Sebastian's entrepreneurial enthusiasm is contagious, and this is the remarkable story of his success. Any parent who wants to instill in their children the value of hard work and a can-do attitude should give the gift of this wonderful real-life story."
-- Congressman Carlos Curbelo, Florida Representative, U.S. House of Representatives
"This true story of Sebastian and his sock company embodies the power of entrepreneurship - it allows anyone to turn problems into opportunities with hard work and the support of those around them. Stories like this, and the Entrepreneur Kid series, can empower kids everywhere to embrace what makes them unique to help others, while allowing parents to see the impact they can have on their kids' confidence through supporting them to take action on their ideas."
-- Laurie Stach, Founder and Executive Director, MIT Launch Program
"The Entrepreneur Kid series challenges adults, as well as kids, to respect the power of young minds. Sebastian's story, and his mother's guidance throughout the founding process, give parents a model for encouraging entrepreneurial traits and creativity. Every young kid should have exposure to this kind of problem-solving adventure."
-- Jeff Bussgang, General Partner, Flybridge Capital and Senior Lecturer, Harvard Business School
Southern Swallow, 9781946984005, 38pp.
Publication Date: July 3, 2017