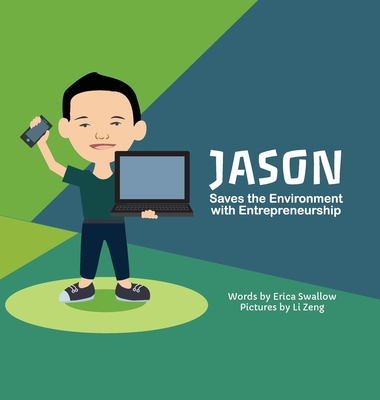 Jason Saves the Environment with Entrepreneurship (Entrepreneur Kid)
Hardcover

* Individual store prices may vary.
Description
Problem-solver Jason Li has been on a mission to pay for his own lunch since he started school, and he's finally found an idea that helps him do just that while saving the planet. Follow along as he becomes an Entrepreneur Kid
The Entrepreneur Kid book series showcases the true stories of real kid entrepreneurs who have started and continue to manage real businesses. The goal of the series is to inspire children everywhere to think creatively and solve the problems they see around them. This book, about Jason Li, is one of four in the series
ADVANCE PRAISE:
A heartening story of young idealism and ambition. This delightful book series embodies Erica's unique genius, her heady meld of entrepreneurial zeal and inner-child connectedness. Inspire your kids to prepare for tomorrow's digital future of work.
-- Arun Sundararajan. professor, New York University and author, "The Sharing Economy"

"An incredibly inspiring book for kids 0 to 100 We are taken along Jason's journey through the highs and lows that come with stepping outside of one's comfort zone. Jason comes out of his trials as a successful entrepreneur with a big heart "
-- Bita Diomande, Founder and CEO, Sampa
"For kid entrepreneur Jason Li, one small, stubborn goal -- earning his own lunch money -- turned into a multi-million dollar company. Jason's story reminds us all that you don't have to set the goalpost very far to accomplish something amazing. In fact, sometimes it is better to have more modest aspirations that organically evolve into something much bigger."
-- Danny Wong, Co-founder, Blank Label
Southern Swallow, 9781946984029, 38pp.
Publication Date: July 3, 2017