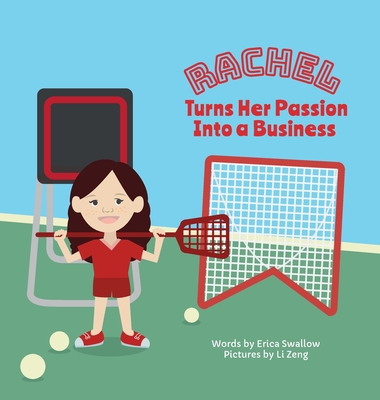 Rachel Turns Her Passion Into Business
Hardcover

* Individual store prices may vary.
Description
Teen lacrosse player Rachel Zietz takes an entrepreneurship course and realizes she can blend the worlds of business and fun by creating a lacrosse equipment company. Follow Rachel's Little Launchers story to see how she does it
"Rachel Turns Her Passion Into a Business" is a story about the entrepreneurial journey of Rachel Zietz, real-life founder and CEO of lacrosse equipment company Gladiator Lacrosse.
The Little Launchers book series showcases the true stories of real kid entrepreneurs who have started and continue to manage real businesses. The goal of the series is to inspire children everywhere to think creatively and solve the problems they see around them. This book, about Rachel Zietz, is one of four in the series
ADVANCE PRAISE:
"Rachel's success story is impressive in so many ways. The fact that she was so young when she followed her dream makes it even more so. Stories like these show the opportunities available to people, no matter their age, if they follow their passions."
-- Steve Stenersen, President and CEO, US Lacrosse
"The Little Launchers series brings concepts like self-efficacy and courage capital to a new and vital audience through relatable, understandable characters. Any little girl can find in Rachel a model of how to move through spaces of uncertainty with entrepreneurial action -- taking that first step, then another, and another. This series is a must-read for current and future entrepreneurs of all ages "
-- Susan Duffy, Executive Director, Center for Women's Entrepreneurial Leadership, Babson College
"An inspiring read for every young kid Rachel's story demonstrates innovation and perseverance in building a fantastic business at scale. The Little Launchers series at large showcases diverse and true stories that demonstrate that entrepreneurship can begin at any age, and it helps young readers visualize the impact they can have on our world. Bringing value to market is the most practical skill set to learn -- the earlier the better -- and this series teaches that concept in a refreshing, kid-friendly way."
-- Frederick Townes, Co-founder and COO, Placester and Techstars Alumnus
Southern Swallow, 9781946984036, 38pp.
Publication Date: July 12, 2017