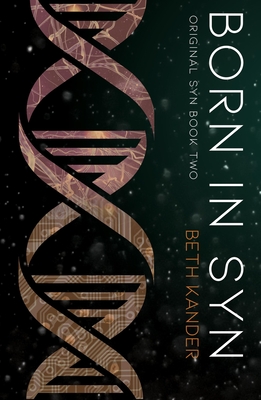 Born in Syn (Original Syn #2)
Paperback

* Individual store prices may vary.
Description
How did we get here? That's the question that drives each friend, each foe, and every strand of the stories woven together in Born in Syn. From an unusually intelligent infant, to individuals wrongly accused or imprisoned, to insiders who know things they wish they didn't and outsiders determined to bulldoze their way into the action, dozens of small decisions and huge risks pile on top of one another, contributing to the creation of a future that will change everything. War. Ambition. Family. Betrayal. As every character hurtles us ever-faster forward, one truth becomes inescapable: Even the end of the world was once the beginning of someone's story.
Praise For Born in Syn (Original Syn #2)…
"This sequel to Original Syn begins in the near past before rushing far into the future. The central character, genius Nathan Fell, is followed from birth, and Kander shares snippets of other characters' stories as they intersect with Nathan's, revealing how these family lines and people are connected to his great thirst for knowledge. Nathan seeks ultimate understanding in his field, and climbs to this summit at great cost to himself, his family, and the human race. The world plunges into a chaos ultimately fueled by Nathan's crowning achievement. The fast-paced tale is filled with believable and authentic characters with ambiguous responses, feelings, and development, and readers will stay up way past bedtime to finish it. The most disappointing aspect is the wait for the third installment to be published. VERDICT Recommended for all dystopian fiction lovers, especially those who appreciate the syncing (pun intended) of technology with the story line." — Library Journal
Owl House Books, 9781947003507, 412pp.
Publication Date: October 15, 2019
About the Author
Beth Kander lives in Chicago, where stories keep her warm. Her dystopian trilogy Original Syn debuts in September 2018.  In addition to writing fiction, Beth is also an acclaimed playwright. Selected awards include a CORE Residency with American Theatre Company; Equity Library Theatre selection; Ashland New Plays Festival Winner 2016 and 2015; The Kilroys List (Honorable Mention, 2015 and 2016); Downstage Left Playwright Residency; Charles M. Getchell New Play Award; Eudora Welty New Play Awards (2013, 2010, 2008); and the Mississippi Theatre Association New Play Award. While living in Mississippi, Kander was named Best Writer by the Jackson Free Press three times. Beth holds degrees from Brandeis University, the University of Michigan, and Mississippi University for Women. PS: Possibly most interesting, a few years Beth's dog was accidentally in a viral video, which landed him appearances on Web Soup, Attack of the Show, and even in Jay Leno's monologue. Seriously. Hence her top professional goal (other than making the NYT Bestsellers List and making the world a better place) is to be marginally more famous than her dog.