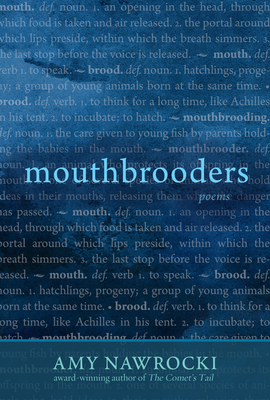 Mouthbrooders
Paperback

* Individual store prices may vary.
Description
Where does language originate, especially the language of poetry?in the brain or the emotions? In the images we behold, or in the memory? In this deeply observant collection, Amy Nawrocki asks, "What language do you have / for the barren days when nothing catches your eye?" And although "The contortionist is unable to speak / from all her sword swallowing," Nawrocki whose brain and emotions once survived a near-fatal illness, is able to be, in beautiful language, an eyewitness?not only to her own inner life but also to what is fragile and transient in all our lives. This poet knows how illness and fear can seep into the everyday.  And it is exactly this awareness that breathes life into every word of Mouthbrooders. 
-Cortney Davis, author of Taking Care of Time
Praise For Mouthbrooders…
"Amy Nawrocki's new collection Mouthbrooders is precise and carefully contained. Each poem is a vessel crafted to express one perfect thing: how saliva works on a burn; the tender terror of bringing a word or a child into life; the pleasure of 'rigatoni…heavy/ with artichokes, cream sauce,/peppercorns slowly braised/and crushed under a fork'; the desire to 'sample' one's own flesh; a conversation with a peregrine in which the persona asks, 'Tell me about the wind, the kind/that quiets fear and lengthens your cries/ into inaudible whispers.' Mouthbrooders is a collection to savor." — Laurel S. Peterson, Norwalk Community College, Poet Laureate, Norwalk, CT 2016 – 2019
"With language that freshens and lends intrigue to the familiar, Amy Nawrocki makes a sacrament of life's ordinary rituals from gardening to shoveling snow to waiting at the DMV. Whether it's a walk in the woods, a meal, or the travails of illness, readers are in the moment with her. I delight in worlds with 'lollipops that suck away loneliness,' where a woman is 'foraging for her lover's shoulder,' and there's a 'taxidermy of goodbyes.' I want to linger and read again." — David K. Leff, author of The Breach and Terranexus
Homebound Publications, 9781947003514, 106pp.
Publication Date: June 14, 2019
About the Author
Amy Nawrocki is a Connecticut native, raised in Newtown and now living in Hamden. She earned a Bachelor's degree from Sarah Lawrence College and a Masters of Fine Arts from the University of Arkansas. She has received numerous honors for her poetry, including awards from the Litchfield Review Poetry Contest, the Codhill Chapbook Competition, The Loft Anthology, Phi Kappa Phi, New Millennium Writings, and the Connecticut Poetry Society. She is the author of five poetry collections: Potato Eaters, Nomad's End, Lune de Miel, Four Blue Eggs and Reconnaissance. With her husband, Eric D. Lehman, she wrote A History of Connecticut Wine, A History of Connecticut Food and Literary Connecticut.  She teaches English and Creative Writing at the University of Bridgeport and is mother to two cats, Maple and Django.