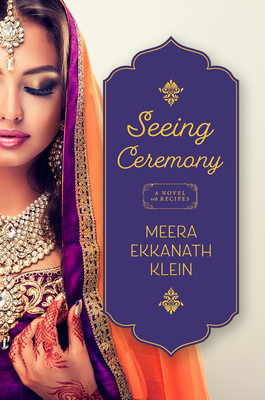 Seeing Ceremony
A Novel with Recipes
Paperback

* Individual store prices may vary.
Description
This feel-good sequel to the award-winning My Mother's Kitchen is all about family, good food, love and finding the way back home. Since the death of her husband three years ago, Meena's mother has wanted to see her oldest daughter married and so she organizes Meena's "seeing ceremony," a ritual associated with arranged marriages. However, eighteen-year-old Meena is not ready to be married and wants to leave her hilltop home in Mahagiri, south India, and attend college in California. The ceremony is a disaster. Her four years in America soon comes to an end and Meena is eager to return home and share her newly-acquired knowledge of agriculture and tea production with her family. On her journey back to India, Meena meets handsome businessman Raj Kumar with whom she has an instant connection. They end up talking for hours in the airport lounge. When they part at the departure gate, Meena doesn't think she'll ever see Raj again. Back in Mahagiri, her mother faces a threat to her home and livelihood. Meena could avert this disaster by agreeing to an arranged marriage. Will Meena have to go through yet another "seeing ceremony?"
Homebound Publications, 9781947003675, 270pp.
Publication Date: May 5, 2020
About the Author
Meera Ekkanath Klein is a former newspaper reporter and columnist who mastered the art of Indian cooking in her own mother's kitchen in the beautiful Blue Mountains or Nilgiris of south India. She is the author of My Mother's Kitchen which was selected as a Winner in the 2015 International Book Awards in the Multi-Cultural Fiction category. She lives in northern California.