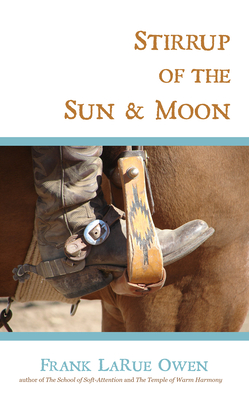 Stirrup of the Sun & Moon
Paperback

* Individual store prices may vary.
Description
We Two-Leggeds are not limited to a physical body. We have capacities of perception beyond the usual five senses. Landscapes — inner, outer — can hold wisdom, healing-energy, memory, and teachings. A practice of attunement to the spirit of place is one viable path for the activity of a poet.

So begins Stirrup of the Sun & Moon — a collection of poems rooted in the seasons, landscape, ancestry, memory of place, and the churning gyre of the soul. As you make your way through Frank LaRue Owen's third book of poetry, you will notice two features — both inspired by customs from early Chinese poetry — that orient and augment the poems. Every poem (with the exception of one) was composed be read with music and contains a liner note that includes the name of a song, its album, and composer. Additionally, some of the poems are place-centric and include the name and place coordinates associated with the poem. As you travel through Stirrup of the Sun & Moon, you will encounter poems-as-memory and poems-as-markers on a map, inspired by such diverse places as Northern California and Colorado, Mississippi and New Mexico. Saddle up!
Homebound Publications, 9781947003712, 120pp.
Publication Date: April 14, 2020
About the Author
Frank LaRue Owen's poetry is influenced by diverse sources including the teachings embedded within dreams, the seasons, the energies of various landscapes, and the churning gyre of the soul's journey, resulting in a poetic path his late teacher referred to as "deep-mapping of unseen reality, inner, outer". Owen studied for a decade with a New Mexican wise woman and wilderness guide who — inspired by her own training in Zen and Mesoamerican spiritual traditions — blended contemplative practice, dreamwork, and nature spirituality rooted in the forests, arroyos, and mountains of the American Southwest. The practice of poetry was inseparable from this path…along with lots of green chilies and pan-fried tortillas. He also studied eco-poetry and eco-literature with the late Jack Collom of the Jack Kerouac School of Disembodied Poetics. Visit him at purelandpoetry.com