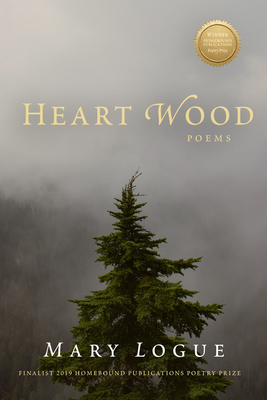 Heart Wood
Poems
Paperback

* Individual store prices may vary.
Description
In Heart Wood poet Mary Logue gives the reader a close examination of the wonderful ordinariness of life in clear and simple language. She asks one to "stand on the earth" and listen, to witness the miracle of a lamb being born, and shows the magic of floating on water. In these poems, she encourages us to live in the heart of this world, realistically to "know how bad it can be and how good." Having homes on both sides of the Mississippi river in Minnesota and Wisconsin, Logue is deeply aware of the natural environment. The landscape of this collection is filled with trees, snow, rivers, flowers, and "wars and weddings." We are presented with the many ways people move through the world as we watch people quilt, stare at a lunar eclipse, or doze with a small dog on their lap. With a warm fire burning while drinking verbena tea the books ends, giving us a deep awareness of all the has happened, at the close of another day. She reminds us it is our duty to "wring every drop of joy" out of this life we have been given, whatever form it takes.
Homebound Publications, 9781947003781, 120pp.
Publication Date: April 21, 2020
About the Author
Mary Logue is a former editor at the Village Voice, Graywolf Press, and The Creative Company. She has published articles in the Village Voice, the New York Times and the Hungry Mind Review. For many years she taught at the Loft Literary Center in Minneapolis. Currently, she is on faculty in the low-residency Children's Literature MFA program at Hamline University in St. Paul.