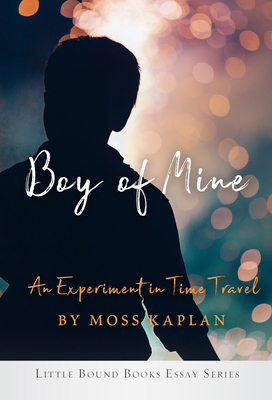 Boy of Mine
An Experiment in Time Travel
Paperback

* Individual store prices may vary.
Description
I can hear you asking, "What's the point of this letter, Dad?" Maybe the letter is just an experiment in time travel, an opportunity for you to reach back across the decades to know your father's heart and mind at a specific moment during your childhood. Or maybe it's about our collective identity: Who am I with you? Who am I apart from you? If I get lucky and die at a reasonable old age, you will be approximately the same age I am now when you finally read this. I like the symmetry of that possibility, especially if you have children, and you're in the throes of trying to be a not-so-terrible parent yourself.
Little Bound Books, 9781947003798, 70pp.
Publication Date: May 19, 2020
About the Author
Moss Kaplan grew up in Malaysia, New Zealand, Nepal, and India. Previous occupations include circus clown and stage carpenter, and currently he teaches creative writing at Denver School of the Arts. He has a BA in Theatre from Lewis and Clark College, a diploma from Circle in the Square Theatre School in New York City, an MA in English Education from The University of Colorado at Boulder, and an MA in Creative Writing from Fairleigh Dickenson University. His creative non-fiction essay "Viewing the Dead," published in The Literary Review, was a Notable Essay in The Best American Essays of 2015. This is his first book. He lives in Denver, Colorado with his wife and two children.