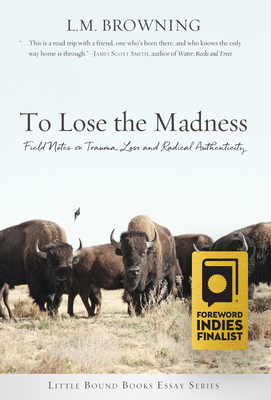 To Lose the Madness
Field Notes on Trauma, Loss and Radical Authenticity
Paperback

* Individual store prices may vary.
Description
In this career-defining work, Browning explores the breaking point every mind has after finding her own limit during a gauntlet of traumatic events. Pulled out of this blast-crater moment in her life by a friend, she is brought away from the insanity and deep into the snowy Sangre de Cristo Mountains where, standing in front of a herd of wild buffalo, she comes face to face with the terms we all must come to surrounding the loss we face in this life. Offering no answers and seeking no pity, Browning lays herself bare in this radically authentic offering. She carries restricted subjects such as miscarriage, mental illness, and suicide out of the silence by offering her own private journey as an example of the power of transcendence. 
Praise For To Lose the Madness: Field Notes on Trauma, Loss and Radical Authenticity…
"Impressively candid and articulate, extraordinarily honest and insightful, exceptionally well written, organized and presented, To Lose the Madness: Field Notes on Trauma, Loss and Radical Authenticity is an inherently compelling read from cover to cover. Thoughtful and thought-provoking from first page to last, To Lose the Madness is unreservedly recommended for personal reading lists, as well as community and academic library collections." — Midwest Book Review, *Reviewer's Choice
"Browning brings us inside the disoriented unfolding of a life taking new shape after trauma. This is not a 'tie a neat bow around it' trauma and recovery story with a too-simple happy ending, but a messy, honest look at a life that will never be the same." — Lilly Dancyger, author of Hunted: A Memoir of Art and Addiction and Deputy Editor of Narratively
Homebound Publications, 9781947003903, 84pp.
Publication Date: April 10, 2018
About the Author
L.M. Browning is an award-winning author of twelve books. In her writing, Browning explores the confluence of the natural landscape and the interior landscape. In 2010, Browning debuted with a three-title contemplative poetry series. These three books went on to garner several accolades including a total of 3 pushcart-prize nominations, the Nautilus Gold Medal for Poetry, and Foreword Reviews' Book of the Year Award. She has freelanced for several publications and has a biannual interview column in The Wayfarer Magazine in which she has interviewed dozens of notable creative figures such as Academy Award-Nominated filmmaker Tomm Moore and Peabody-winning host of On Being Krista Tippett. Balancing her passion for writing with her love of learning, Browning is a graduate of the University of London, and a Fellow with the International League of Conservation Writers. In 2011, she opened Homebound Publications, a rising independent publishing house based in Connecticut. She is currently working to complete a L.B.A. in Creative Writing at Harvard University's Extension School in Cambridge, Massachusetts. visit her at www.lmbrowning.com