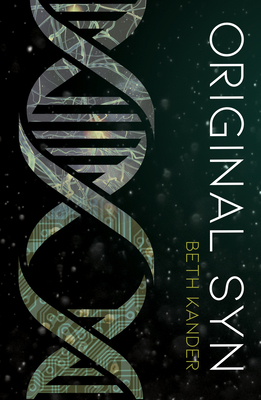 Original Syn
Paperback

* Individual store prices may vary.
Description
Fifty years after the Singularity, the world is divided into two populations locked in a cold war: Synthetic Citizens, or Syns, human-computer hybrids with extraordinary enhancements and potentially infinite lifespans; and Originals, the individuals who did not merge their bodies with the machines.
But the decades-long battle between Original and Syn is almost at an end, because the Originals are on the verge of extinction. One of the only young Originals left in the world, Ere, knows he might someday be the very last of his kind. But when he meets a beautiful, powerful Syn girl called Ever, he questions everything he's ever been told about his lifelong enemies.
Original Syn is a rich, dangerous world of family secrets, free will, forbidden love, and all of the unexpected peril that arises when aggressive technology meets stubborn humanity.
Praise For Original Syn…
"In the future of Beth Kander's Original Syn, singularity has been achieved, leading to two branches of humanoids: Originals, who are deprived of technological enhancement; and Syns, enhanced humans who are physically ageless and connected to vast networks of knowledge. The two groups oppose each other in perpetual warfare, the origins of which have long been forgotten. With superior technology, the Syns are winning, while the Originals are ever-diminishing in number . . . The novel's disparate worlds are revealed slowly, and the story is sophisticated enough to engage both adults and teens. The book maintains a taut pace to the end, concluding with a plot twist that turns the tables and stimulates interest in a second volume, soon to come." — Foreword Review
Homebound Publications, 9781947003996, 474pp.
Publication Date: September 25, 2018
About the Author
Beth Kander lives in Chicago, where stories keep her warm. Her dystopian trilogy Original Syn debuts in September 2018. 
In addition to writing fiction, Beth is also an acclaimed playwright. Selected awards include a CORE Residency with American Theatre Company; Equity Library Theatre selection; Ashland New Plays Festival Winner 2016 and 2015; The Kilroys List (Honorable Mention, 2015 and 2016); Downstage Left Playwright Residency; Charles M. Getchell New Play Award; Eudora Welty New Play Awards (2013, 2010, 2008); and the Mississippi Theatre Association New Play Award. While living in Mississippi, Kander was named Best Writer by the Jackson Free Press three times.
Beth holds degrees from Brandeis University, the University of Michigan, and Mississippi University for Women.
PS: Possibly most interesting, a few years Beth's dog was accidentally in a viral video, which landed him appearances on Web Soup, Attack of the Show, and even in Jay Leno's monologue. Seriously. Hence her top professional goal (other than making the NYT Bestsellers List and making the world a better place) is to be marginally more famous than her dog.