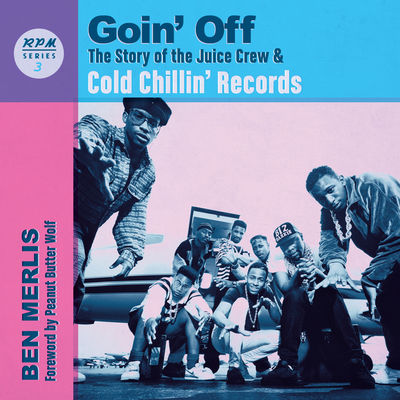 Goin' Off
The Story of the Juice Crew & Cold Chillin' Records (RPM Series #3)
Paperback

* Individual store prices may vary.
Description
As Hip-Hop first exploded throughout New York City's boroughs and surrounding towns, a new generation was emerging—the first to be raised on the genre. At the center of it all was a collective known as the Juice Crew, led by the charismatic radio personality Mr. Magic, whose Rap Attack was the first program of its kind on a commercial station. His DJ/engineer Marley Marl pioneered production techniques that defined the golden era of Hip-Hop and formed the basis of Cold Chillin' Records, which was founded in 1986 by Len Fichtelberg and Tyrone Williams.
Goin' Off chronicles the rise and fall of Cold Chillin' and its partnership with Warner Bros. Records. It follows the careers of the label's recording artists through first-hand accounts of industry players, producers, MCs, and DJs: Roxanne Shanté was a fourteen-year-old battle rapper who spawned the diss record; MC Shan engaged in a legendary cross-borough feud with KRS-One; Kool G Rap was a foundational participant in what the media dubbed "gangsta rap"; Big Daddy Kane's quick-witted lyricism changed the way people rhyme; the collegiate Masta Ace sought to uplift his community during the height of the crack epidemic; The Genius (aka GZA) co-founded the rap dynasty Wu- Tang Clan; and the enigmatic Biz Markie had the world singing along to his hit anthem "Just a Friend." Plagued by corporate censorship and a landmark sample-related lawsuit in the 1990s, Cold Chillin' folded, leaving behind a legacy shrouded in controversy and a catalog that influenced multiple generations of rap artists.
BMG Books, 9781947026322, 304pp.
Publication Date: November 5, 2019
About the Author
Ben Merlis is a native of Los Angeles, where he was raised on oldies, Hip-Hop, and punk, in that order. He currently writes for uDiscover Music and works in public relations for Experience Hendrix, ABKCO, ZZ Top, and many others.
Peanut Butter Wolf is a Los Angeles-based DJ, record producer, and founder of the independent record label Stones Throw Records.