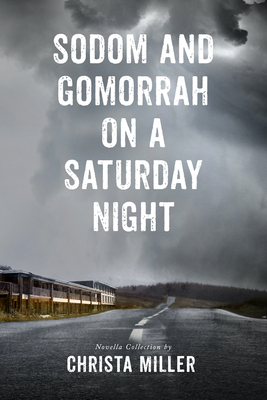 Sodom & Gomorrah on a Saturday Night (Paperback)
Running Wild Press, 9781947041578, 468pp.
Publication Date: September 1, 2020
* Individual store prices may vary.
Description
When all of society is privatized, profitable crimes become legalized while empathy is banned. How far will people go to connect? Could their defiance lead to revolution? These are the underlying questions within this novella collection.
In "Sodom and Gomorrah on a Saturday Night," the murder of a young mixed-race prostitute is, at first, just another destruction-of-corporate-property case. But when a well-to-do white woman embodies the speech and behavior of the murdered girl, former cop-turned-private security guard Ray is drawn into a bizarre and twisted investigation.
In "The Kings of Babylon," Ray has joined an underground rescue organization when he meets Annika, a rogue journalist. Together they work on her latest story, to investigate whether black-market human trafficking is undercutting the corporate system and how they can save those trafficked.
In "The Queen of Sheba," Becca serves out the sentence she was handed alongside other debt laborers. Thinking she deserves her miserable existence due to her own dark past, she can't quite bring herself to show up for justice -- until she learns the truth of how enterprises define "value" for laborers versus the privileged others.
And in "A Road in the Wilderness" workers once assumed to be "safe" are being detained to work off their debt. Unable to bear seeing the people around her fall prey to the system, Sophie goes on the run, only to come face to face with people living entirely outside social bounds. Forced to revisit her own checkered past, Sophie finds she can only step up when she faces her own role in the system and its oppression.