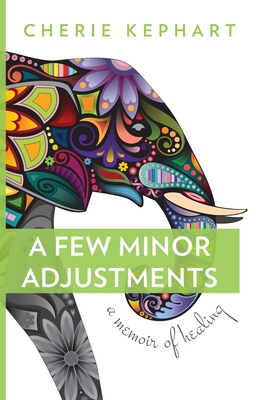 A Few Minor Adjustments (Paperback)
A Memoir of Healing
Bazi Publishing, 9781947127012, 256pp.
Publication Date: September 7, 2017
Other Editions of This Title:
Hardcover (9/7/2017)
* Individual store prices may vary.
Description
Cherie Kephart, a young woman who longed for adventure, traveled the world from the remote villages of Central Africa to the majestic coastlines of New Zealand until a mysterious illness thrust her to the precipice of death. The persistent health challenges led to years of suffering, during which her symptoms time and again were undiagnosed by well-meaning medical doctors and healers who were sometimes competent, sometimes careless, sometimes absurd, and always baffled. The anguish, the uncertainty, and the relentless pain would have caused many people to simply give up and end their lives--and Cherie came close. Told with brutal honesty, astonishing wit, and a haunting vulnerability, A Few Minor Adjustments is an unforgettable memoir that will move you with its fiercely inspirational account of one woman's incredible journey to find life-saving answers. In the end, she finds much more than a diagnosis.
About the Author
Cherie Kephart is a writer and editor, holds an M.A. in Medical and Cultural Anthropology, and has worked for many years as a scientific and technical writer. Her memoir, A Few Minor Adjustments, is a 2017 San Diego Book Awards winner. It also was featured in the San Diego Annual Memoir Showcase and was performed onstage at the Horton Grand Theater. Cherie's essays, stories, and poems have appeared in publications and events such as: The San Diego Writers Ink Anthology, The San Diego Poetry Annual, Oceanside Literary Art Walk, Wild Lemon Project, and the Magee Park Poets Anthology. Cherie lives in San Diego and has been celebrated for her holistic approach to healing, and her willingness to examine her life lessons in her writing. Stay connected with Cherie at: CherieKephart.com