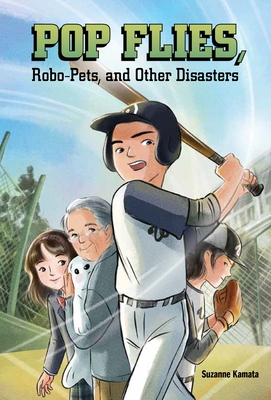 Pop Flies, Robo-Pets, and Other Disasters (Hardcover)
One ELM Books, 9781947159365, 208pp.
Publication Date: March 3, 2020
* Individual store prices may vary.
Description
Thirteen-year-old Satoshi Matsumoto spent the last three years living in Atlanta where he was the star of his middle-school baseball team--a slugger with pro potential, according to his coach. Now that his father's work in the US has come to an end, he's moved back to his hometown in rural Japan. Living abroad has changed him, and now his old friends in Japan are suspicious of his new foreign ways. Even worse, his childhood foe Shintaro, whose dad has ties to gangsters, is in his homeroom. After he joins his new school's baseball team, Satoshi has a chance to be a hero until he makes a major-league error.
"A heart-warming story about a baseball player who learns that teamwork is much more important than being the star of the team. I loved the family dynamics and depiction of life, and especially baseball, in Japan."--Shauna Holyoak, author of Kazu Jones and the Denver Dognappers (Hyperion, 2019)
"A story set in Japan rich in details only Kamata, an insider, could share. With ease and respect, she weaves the pressures, agonies, and loyalties of Satoshi's life at home, at school and on a junior high baseball team with the practices and traditions of the game played in Japan. I am a big fan of this middle-grade homerun "--Annie Donwerth Chikamatsu, award-winning author of Somewhere Among (Atheneum/Caitlyn Dlouhy Books, 2017)
"Pop Flies really pops A lively, fun, easy read that draws you in and keeps you guessing."--Dori Jones Yang, award-winning author of The Forbidden Temptation of Baseball (SparkPress, 2017)