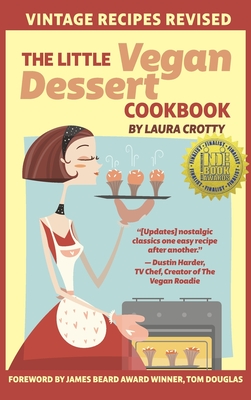 The Little Vegan Dessert Cookbook
Vintage Recipes Revised
Hardcover

* Individual store prices may vary.
Description
"For over three decades, Laura has been baking healthy desserts using vegan ingredients. Her treats are scooped up as soon as they hit the dessert counter at my restaurant because they're delicious, healthy and guilt-free. Treat yourself to this book and explore the world of vegan baking. You'll be happy that you did "--Stephan Germano, CEO of the Pasta Pizza Store and former head chef and restaurateur of the award-winning eatery, the New York Pizza Factory
Laura Crotty has always had a thing for old cookbooks. For The Little Vegan Dessert Cookbook: Vintage Recipes Revised, she combed through her extensive collection to select the best recipes for cookies, cakes, doughnuts, bars, and breads--and then experimented with healthy ingredients to make them conducive to a plant-based diet.
The resulting recipes include vegan versions of such classics as Toll House Inn Chocolate Chip Cookies, Chocolate Cake from the 1934 Hershey's Cookbook, and S'mores from the 1927 Girl Scout's Handbook. The book also contains plant-based takes on other standards she culled from vintage cookbooks--like Brownies, Blondies, Peanut Butter Cookies, Linzer Tarts, Carrot Cake, Coffee Cake, Pineapple Upside Down Cake, Tea Bread, and Zucchini Bread. Vegan interpretations of the author's family favorites make an appearance as well--like her grandmother's light and lemony Genets and her mother-in-law's Irish Soda Bread.
With a retro design and sections on Baking Tips (including different egg replacement methods) and Pantry Items that every vegan baker should have, The Little Vegan Dessert Cookbook offers treats that are right for every season and every occasion--from campfires and picnics to birthdays and holidays--all the while reminding us of the tastes that have come to represent our childhood
Lincoln Square, 9781947187108, 100pp.
Publication Date: July 28, 2020