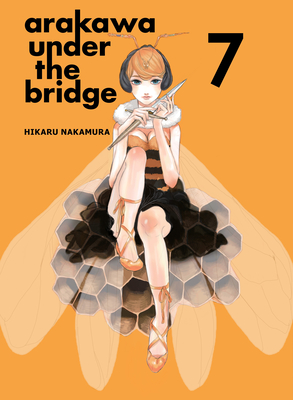 Arakawa Under the Bridge 7
Paperback

* Individual store prices may vary.
Description
Best-selling mangaka Hikaru Nakamura (Saint Young Men) makes her English language debut with this surreal comedy starring a 620-year-old water sprite, a man with a star for a head, a nun, and a samurai who runs a barber shop under Tokyo's Arakawa Bridge.
Part 7 contains volumes 13 and 14 of the Japanese edition.

Under the waters of the Arakawa lies the Kapa House. Under the Kapa House is a secret room only those dubbed "mayor" are allowed to enter. Inside the room someone casts charms to protect the Arakawa river bank from unwanted intruders...
Praise For Arakawa Under the Bridge 7…
"Delightfully zany on every page, Nakamura's weird love story manages to deliver as much blood to the heart as she does tickles to the funny bone. With the series soon reaching its end, one can only wonder how Recruit and Nino's tale will wrap up. One thing's for certain, though: it won't be predictable by any means, an aspect that's kept Arakawa Under the Bridge the entertaining read it's been." — Boston Bastard Brigade
Vertical Comics, 9781947194465, 350pp.
Publication Date: February 18, 2020
About the Author
Born in 1984, in the artisan filled city of Shizuoka, Hikaru Nakamura is one of the top selling manga artists today. Since 2001, when she was only 16 years old, Nakamura was already making headways in the world of manga. Her first series Nakamura Factory was a mini-hit for Japanese publishers SquareEnix. She would follow that up with Arakawa Under the Bridge, which would eventually be adapted into an animated television series.

While Arakawa was her break-through, her next work Saint Young Men would take her to a level of success not seen in Japan in years Attack on Titan and Naruto in the process having sold more than ten million units. Arakawa Under the Bridge is her English language debut, but she has been published throughout Europe and Asia for years.
or
Not Currently Available for Direct Purchase