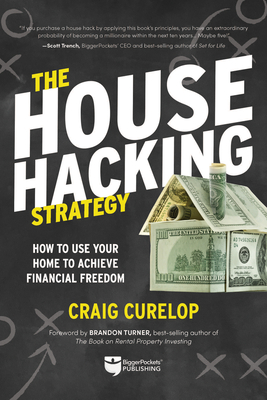 The House Hacking Strategy (Paperback)
How to Use Your Home to Achieve Financial Freedom
Biggerpockets Publishing, LLC, 9781947200159
Publication Date: October 17, 2019
Other Editions of This Title:
Hardcover (10/17/2019)
* Individual store prices may vary.
Description
Invest right, live for free, and build your real estate portfolio the right way
Savvy investors have been using a little-known but clever strategy in real estate for decades--and now, you'll learn exactly how to perfect this trade secret The average house hacker turns a small multifamily investment property into personal advantage by combining the many profits of real estate investing. When mastered, house hacking can save thousands of dollars in monthly living expenses while building ten thousands of dollars in equity each year, and those are just a few of the lucrative benefits In this book, serial house hackers and podcasters Brandon Turner and Scott Trench lay out all the in-depth details to make your first (or next) house hack a success.

Inside you'll learn:
- How to get started house hacking--even with low income or low savings
- All about LLCs, corporations, and tax strategies for house hackers
- The incredible connection between house hacking and early retirement
- How to find the ideal house hack property--even in a competitive or expensive market
- Seven creative strategies for low (and no) money down buying techniques
- How to convince your spouse to house hack
- Property management strategies to make ownership a breeze
- How to house hack a single family home (yes It can be done )
...and SO much more

House hacking doesn't have to be a mystery anymore. Discover why so many successful investors support their investment careers with house hacking--and learn it from the authors who created the phenomenon