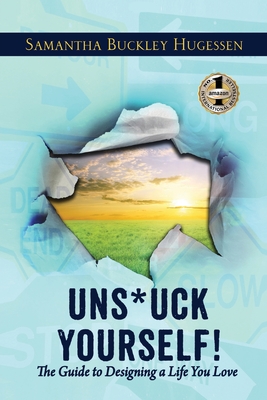 Unstuck Yourself!
The Guide To Designing A Life You Love
Paperback

* Individual store prices may vary.
Other Editions of This Title:
Hardcover (10/2/2019)
Description
Ever felt like nothing is going the way you thought it would? Maybe it doesn't feel like a crisis; it's just a constant drain on your energy--like you are always bailing water out of your leaky boat. Or maybe it seems like you've been working so hard for so long that you feel uninspired, unappreciated, even--stuck. It feels awful. Doesn't it feel like something has to change? I have some good news for you; you are not alone. If your life has begun to feel like a trap, UNS*UCK Yourself will give you the tools to break free.
There are so many reasons why I wrote UNS*UCK Yourself. Firstly, because being stuck SUCKS That was originally going to be in the title of the book, but helping people find a solution was my goal of writing this book, rather than pointing out the obvious. But I will say it again, being stuck DOES SUCK. When you are down in the depths of stuckness, you can find yourself in so deep that you can't even tell where you are. Imagine being stuck in heavy clay-like mud. All the energy you put into working harder to free yourself stirs up more muck and more YUCK instead of getting you free. We're going to travel together out of this place, but first, you need to recognize the signs of being stuck.
The second reason I wanted to write UNS*UCK Yourself was to teach people that it was possible for them to live a life that they dreamed of having by designing a life that they loved. That isn't fluffy cotton-candy optimism--I have been stuck myself, and it sucked. That was when I first used the Fluid Thinking technique I share in this book. As I applied Fluid Thinking to the stuck areas of my life, the changes I saw were phenomenal--some changes were gradual, and some changes seemed to happen practically overnight. Voila, unstuck I have had many clients in front of me, and "I don't know" seems to be their go-to answer to everything. That is what happens when people are stuck. I help these clients apply the same Fluid Thinking techniques that were taught to me, and they move out of Stuckville. The change is always powerful. They start to visualize a future with possibilities. They begin to imagine a life they can love living. They get motivated. They become action takers and then, as more gets revealed in their journey, their perceptions change, and so does the landscape of their lives. It is very cool to witness. When you find something that cool and works that well to help people, you gotta share the magic.
Part of what makes this journey so powerful is the insight gained from examining your life. Many people who are stuck have spent a lot of time investing in creating a story that explains why they are stuck. Often, it is a well-rehearsed tale that draws on the wounds of the past. Our past stories have more power over us than we realize. The wrong kind of stories can paralyze us. Sometimes it's not the stories from our past that keep us stuck.
Many people live in a state of stuckness because they are delaying until a future time when everything is finally perfect. (I wish If anyone has that info, please let me know the date, and I will circle it in my calendar ) It is easy to think that if we just wait a little longer, somehow something will magically change and get us unstuck. (In spite of this never happening before )
One thing I can tell you about Fluid Thinking is that it needs input from you for it to work. You have to be the one making the choices about what changes you want to see in your life, not the changes your partner or your boss or your mother wishes you would make. You are steering this ship. Writing out your own wants and desires is what will spark the change that gets you uns*uck, not whatever you think is "supposed" to be the right answer.
Beyond Publishing, 9781947256354, 172pp.
Publication Date: December 12, 2019