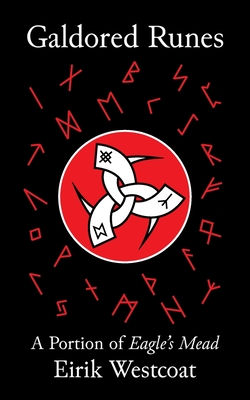 Galdored Runes
A Portion of Eagle's Mead
Paperback

* Individual store prices may vary.
Description
The author's Eagle's Mead is a complex and weighty tome, a world full of magic and mysteries. Now, a small and friendly window into that world and the poetic possibilities of the path of Runic Initiation has been opened with this collection of poems from it. A sample of each of his great themes will be found within: Mead, Runes, and Grails. These thirty-one poems include his translation of the R natal, several rune poems, and:
A Skaldic Eagle Takes Flight
insdr pa
R nagaldralj
Seek R na
Runes for the Grails
Three Draughts from the Vine
Eirik Westcoat is a runic initiate who has presented his award-winning poetry at several regional Asatru gatherings in the American Northeast. In addition to being a poet, he is also a scholar with a degree in Viking and Medieval Norse Studies who specializes in Old Norse mythology, poets, and poetry, with published articles on the galdralag meter, the meaning of the valknut, and the authority of poets in Old Norse literature.
Become Who You Are
Seek the Mysteries
Skaldic Eagle Press, 9781947407145, 96pp.
Publication Date: June 20, 2020