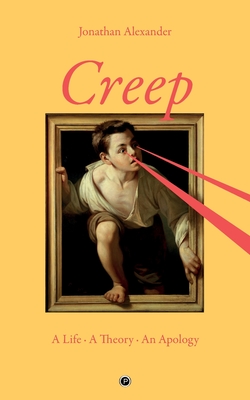 Creep (Paperback)
A Life, a Theory, an Apology
Punctum Books, 9781947447103, 174pp.
Publication Date: August 29, 2017
* Individual store prices may vary.
Description
"In a remarkable study that creeps between the genres of memoir, theory, and even manifesto, Jonathan Alexander gives us a fresh perspective on creepiness. Drawing on his experience as a victim of homophobia, he suggests that labeling someone creepy may be the creepiest move of all - while at the same time practicing a vulnerable, critical, and hopeful form of creepiness all his own." (Adam Kotsko, author of Creepiness, Zero Books, 2015)
"Setting out to write a memoir is already a creepy sort of impulse, but Creep, Jonathan Alexander's exploration of his inner one, solves that impulse by confronting it - theoretically and wittily and with a rhetorician's persuasive aplomb. Confronting it? Well, not exactly. He seduces the reader by seducing himself in this meta exercise in memoir writing. I've never "meta creep" I didn't finally like in some way. I certainly liked this Creep and the man and writer who, confessing to be one, created this book. (Kevin Sessums, author of I Left It on the Mountain, Picador, 2015)
Creeps surround us, seemingly everywhere. People creep up on each other both on the streets and online, with digital technologies vectoring a lot of cyber-stalking. It's so easy to spy on people that "creep catching" has even become a form of news entertainment in shows such as "To Catch a Predator." But what defines a creep is so broad that nearly anyone can be a creep at times. Many of us wonder if we ourselves have been creepy, or if perhaps we engage in behavior that, if others knew, would easily earn us the title "creep." Even Donald Trump, during the raucous 2016 campaign, was called a "creep" on several occasions by various news media.
Indeed, for many of us, the specter of the creep is not just threatening, but exciting - exciting perhaps in the possibility of threat. Yes, we get creeped out. But we are also fascinated by creeps, perhaps in part because we all sense the potential inside ourselves for creepy behavior.
In this provocative and engaging new book, Jonathan Alexander interweaves personal narrative and cultural analyses to explore what it means to be a creep. Calling this work a critical memoir, he draws on his own experiences growing up gay in the deep south, while also interrogating examples from literature and popular film and media, to approach the figure of the creep with some sympathy. Ranging widely over contemporary culture, especially the ever-creeping presence of nearly ubiquitous surveillance, Alexander confesses his own creepiness while also explaining to us what being creepy can show us in turn about our culture. He also resurrects some famous "creeps" from the past, such as J.R. Ackerley, to explore what makes a creep creepy, and how even the best of us succumb at times to being creeps. Ultimately, Alexander argues, a study of creepiness might offer us critical insight into the fundamental perversity of how we live. Creep: A Life, A Theory, an Apology is a timely meditation for our strange and creepy times.