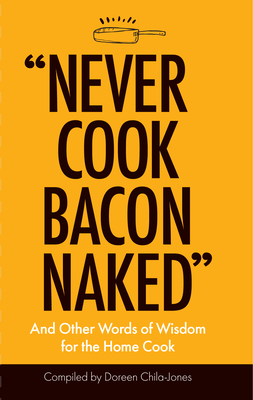 "Never Cook Bacon Naked" (Hardcover)
And Other Words of Wisdom for the Home Cook
punchline, 9781947458215, 192pp.
Publication Date: September 4, 2018
* Individual store prices may vary.
Description
We have all done it: ruined an entire dinner; burned a piece of toast; served raw chicken to our guests. Cooking can be a daunting, frustrating, and hopeless pursuit . . . and when you are in a pickle, it's time for a little pep talk from some of the biggest cooking and non-cooking experts—people like Julia Child, Thomas Keller, Alice Waters, Truman Capote, Maya Angelou, and many others who, at one time or another, have also scorched their lunch. But remember, as the cookbook author Alana Chernila likes to say, "Homemade food is the opposite of perfection."
About the Author
Doreen Chila-Jones is a writer whose comedic stylings can be found in punchline's NY Dogs (by Violet Lemay), Hot Guys ABZ, and Say What? 670 Quotes That Should Never Have Been Said. While Doreen specializes in the humor genre, her offerings for children with special needs are gaining attention. Doreen's musings can also be found in Matters Magazine (www.mattersmagazine.com) and her daily blog, mamasucksblog.wordpress.com. She has been married to the same human for 20 years, and together they've adopted three children. Her life is total chaos, as she likes it.