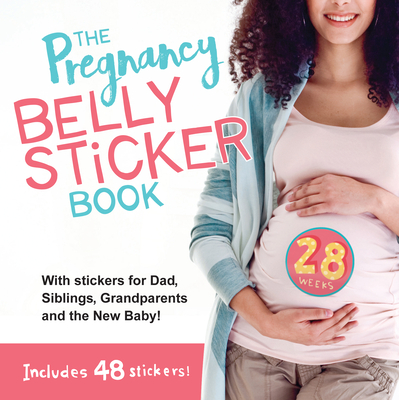 The Pregnancy Belly Sticker Book
Paperback

* Individual store prices may vary.
Description
You can't log onto Facebook or Instagram without seeing photos of babies wearing adorable belly stickers to celebrate significant milestones (like "One month old!"), and now comes the very first book of belly stickers for moms-to-be!
After the success of The Belly Sticker Book comes a brand-new book of belly stickers dedicated to pregnancy and beyond. Includes stickers that chart the pregnancy week by week, plus other fun announcements ("It's a girl!") and milestones. The book also includes stickers for the dad-to-be, grandparents, siblings, and other family members, before and after the baby is born ("Best uncle ever!"). The Pregnancy Belly Sticker Book is a great way to capture and share this joyful time for the entire family.
Includes 48 belly stickers. Use the hashtags #bellystickers and #bellystickerbook for extra sharing!
duopress, 9781947458444, 96pp.
Publication Date: October 2, 2018
About the Author
duopress labs creates innovative books and gifts for children and adults. Recent titles include the TummyTime®, Terra Babies, SmartFlash™, and High-Contrast series; The Belly Sticker Book; 100 Pablo Picassos; My Fridge; and A Good Deck.

Margie and Jimbo's Illustration Studio is the workspace of a girl named Jillian who loves fun color combinations and enjoys sweets a bit too much. Jillian, who named her studio after her parents, illustrates images that make her smile, patterns that catch her eye, and ideas that excite her. Jillian's work for duopress includes My Fridge, The Belly Sticker Book, and The Pregnancy Belly Sticker Book. She currently enjoys life in central Illinois with her husband, David; sweet daughters, Bee and Weezie; and dogs, Charlie, and Zuzu.