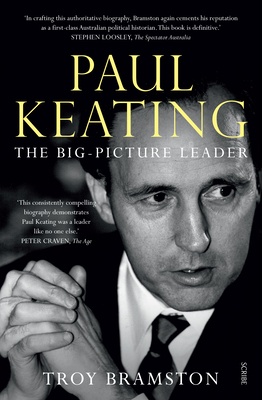 Paul Keating
The Big-Picture Leader
Paperback

* Individual store prices may vary.
Other Editions of This Title:
Hardcover (9/1/2017)
Description
Paul Keating: the big-picture leader is the definitive biography of Australia's 24th prime minister, and the first that Keating has cooperated with in more than two decades.
Drawing on around 15 hours of new interviews with Keating, coupled with access to his extensive personal files, this book tells the story of a political warrior's rise to power, from the outer suburbs of Sydney through Young Labor and into parliament at just 25 years of age; serving as a minister in the last days of the Whitlam government; his path-breaking term as treasurer in the 1980s; his four-year prime ministership from 1991 to 1996; and his passions and interests since.
Bramston has interviewed more than 100 people who know and worked with Keating, including his family, parliamentary colleagues, advisers, party officials, union leaders, public servants, journalists and former prime ministers. Bramston secured access to Labor Party archives, documents debates in oncesecret cabinet papers, reveals caucus minutes for the first time, draws on unpublished diaries, discloses meeting records with US presidents George H.W. Bush and Bill Clinton, talks to former British prime minister Tony Blair, and shares his discoveries from the personal files of Gough Whitlam, Bill Hayden, Bob Hawke, and John Howard.
Paul Keating saw political leadership as the combination of courage and imagination, a belief that powered his public career and helps explain his extraordinary triumphs and crushing lows. Keating blazed a trail of reform with a vision for Australia's future that still attracts ardent admirers and the staunchest critics. This book chronicles, analyses, and interprets Keating's life, and draws lessons for a Labor Party and a country still reluctant to fully embrace his legacy.
Scribe Us, 9781947534186, 784pp.
Publication Date: April 24, 2018