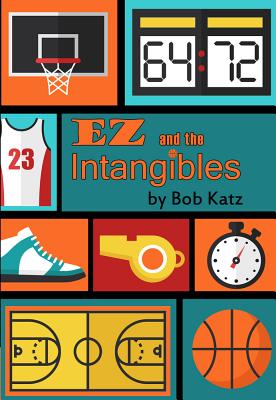 EZ and the Intangibles (Paperback)
Regal House Publishing, 9781947548183, 150pp.
Publication Date: November 1, 2018
Other Editions of This Title:
Hardcover (11/1/2018)
* Individual store prices may vary.
Description
Ethan "EZ" Zanay loves the sport of basketball and it's really unfortunate he's so darn bad at it. After making an embarrassing mistake in front of his teammates, EZ finally decides to call it quits. End of story? Not quite yet.
EZ' lack of basketball talent is far from his only problem. He's isolated from classmates and wanders the fringe of the schoolyard alone during recess, gazing at the games he's never invited to join in. When his father, a popular former sports star, is accused in a business scandal, the family must suddenly wrestle with financial problems. Plus, EZ' bothersome kid brother is the town's most promising young athlete, fast becoming a local legend.
And making matters worse, EZ still clings to the fantasy that someday, somehow, he might yet turn into that unheralded player who surprises everyone by coming through in the clutch.
His best shot at a comeback is to specialize in those subtle moves and unseen maneuvers that don't show up in the standard stat sheets. EZ' secret game plan is to focus all his efforts on making the most of the intangibles. But he'll only succeed if somebody is there to notice.
About the Author
Bob Katz is the author of several acclaimed books, including Elaine's Circle: A Teacher, A Student, A Classroom, and One Unforgettable Year, Third and Long, winner of the 2011 Independent Book Publishers Association fiction award, The Whistleblower: Rooting for the Ref in the High-Stakes World of College Basketball, and the novel Hot Air. His writing has appeared in the New York Times, Chicago Tribune, Boston Globe, Newsweek, and many other publications.
Praise For EZ and the Intangibles…
"Bob Katz has worked magic with this story. He has entwined exciting basketball plays with engaging math and statistics, and mentions of classic literature draw intelligent life parallels and, at times, mystique."  —The Children's Book Review
"The book provokes thought by deftly combining articulate, lucid prose with a grade schooler's viewpoint that can help make pursuit of any sport more worthwhile. With EZ and the Intangibles, Bob Katz nails a three-pointer. Swish. Nothing but net."  —Ask Coach Wolf
"This story will inspire kids who don't excel at sports and yet want to make their parents proud. I really love how Ethan found a great solution to make himself an important part of the team." —Diana Perry, Story Monsters Ink
"A great book for children as they experience success, setbacks, self-reflection, and finding their niche in life."  —Ed Hightower, award-winning Superintendent of Schools and award-winning college basketball referee (4 NCAA Championship games, 12 Final Fours)
"Bob Katz writes for all to understand what makes us us."  —Book Room Reviews