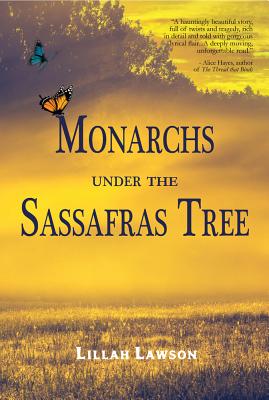 Monarchs Under the Sassafras Tree
Paperback

* Individual store prices may vary.
Description
It's an unusually warm autumn, 1929, and O.T. Lawrence is about as content as a cotton farmer can be in Five Forks, Georgia. Nothing—not poverty, drought, or even the boll weevi—can spoil the idyllic life he shares with his doting wife and children and his beloved twin brother Walt. Until illness and Black Tuesday take everything O.T. ever held dear in one fell swoop. Grieving, drinking, and careening toward homelessness, O.T. is on the brink of ending it all when he receives an odd letter from a teenage acquaintance, the enigmatic Sivvy Hargrove, who is locked away in Milledgeville's asylum for the insane. Traveling through desperate antebellum towns, O.T. and his daughter Ginny are determined to find Sivvy and discover her story. Set against the backdrop of the Great Depression, Monarchs Under the Sassafras Tree is a love story to Georgia and the spirit of its people—a story of family, unconditional love, poverty, injustice, and finding the strength inside to keep on going when all is lost.
Praise For Monarchs Under the Sassafras Tree…
"Lillah Lawson spins a yarn that's wonderful in its knottiness. Monarchs Under the Sassafras Tree is a historical Southern fable about butterflies, biscuits and the healing power of family, both biological and chosen. The images are evocative, the dialogue rough and realistic, the emotions achingly real. A must-read." —Lauren Emily Whalen, author of Satellite

"A hauntingly beautiful story, full of twists and tragedy, rich in detail and told with gorgeous lyrical flair… A deeply moving, unforgettable read." —Alice Hayes, author of The Thread that Binds

"An exquisite read, with the tender yet gritty undertones of Steinback, Monarchs Under the Sassafras Tree is a solemn walk through the deep south during one of the most difficult eras in American history: the early twentieth century. Lawson captures the southern gothic through the often fragile, yet always hopeful hearts of her characters as they try to cope with the hard knocks of life. This book will touch your heart in the beautifully tragic way that only southern gothic can, slowly at first, and then all at once." —Melanie Cossey, author of A Peculiar Curiosity
Regal House Publishing, 9781947548282, 381pp.
Publication Date: September 20, 2019
About the Author
Lillah Lawson lives in North Georgia, not far from Five Forks, with her husband and son, a silly dog, and two slightly evil cats. When she's not writing, you can find her baking, playing bass, marathoning 1980s sitcoms, or riding her bike. She is currently working on another historical fiction novel, set in the late 1960s.
or
Not Currently Available for Direct Purchase