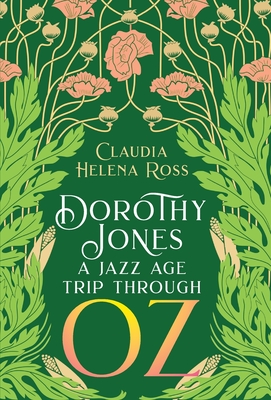 Dorothy Jones
A Jazz Age Trip Through Oz
Hardcover

* Individual store prices may vary.
Description
Dorothy Jones, the quintessential renaissance woman of Jazz Age Harlem, operates an upscale dress shop by day and an exclusive speakeasy by night from her posh Sugar Hill brownstone. Dorothy has two enemies: her jealous childhood adversary, Marianne, who solicits the district attorney to expose Dorothy's clandestine speakeasy, and a man dressed in a pin-striped suit who lurks in the shadows of her life, terrorizing her. Dorothy keeps the enemy a secret from her friends, mob boss Johnny, Danny her bodyguard, and Charlie her bartender, unwilling to risk losing them after the death of her aunt and uncle in a mysterious auto accident.
During Johnny's event at the speakeasy to welcome new members into his organization, Charlie serves Dorothy a hallucinogenic martini made with Johnny's bootleg gin. Dorothy passes out and crash-lands in Oz, slaying the Witch of the East. Dorothy inherits five-inch stilettos from the dead witch and begins her journey to the Emerald City in hopes the Wizard can help her return to Harlem. However, Dorothy doesn't get far in the five-inch stilettos, so she enlists Scarecrow, Tin Man, and Lion, who are more than happy to assist her. For unbeknownst to Dorothy, once her stiletto heels click upon the Yellow Brick Road, she will expose a conspiracy that will alter the history of Oz-and her life in Harlem-for all time.
Blame Helena Books and Media, 9781947549005, 256pp.
Publication Date: December 17, 2021