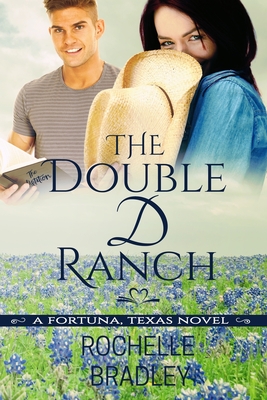 The Double D Ranch
Paperback

* Individual store prices may vary.
Description
Longhorns and lingerie...

Much to the chagrin of foreman Josiah, Jessie Davidson wants a romance reduction. But the Double D Ranch hides a secret. Since inheriting the property, Jessie kept her grandmother's hoard concealed, but now she's found the courage to purge the unwanted items: steamy novels, thousands of them. Romance has to go Donating the books is a good thing, right? Not when coupled with a dare.

The dare spirals out of control. The ante is upped when caches of the spicy books, left in barber shops, pool halls, and pubs, challenge others to join the fad. A perverted prankster runs amok playing on the town's fantasies. Book clubs are formed. Plots acted out. In a town saturated with romance, Jessie finds her love life underdeveloped.

Keep Jessie safe. It's the promise Josiah Barnes made to Jessie's dying grandmother. He aims to honor it, even if it means protecting Jessie from himself. Failing her in the past has him on high alert when the Double D becomes ground zero for the arousal avalanche sweeping the town. As a full-support, silent partner, Josiah will do anything to augment the Double D. But when Jessie starts selling handmade lingerie, keeping his hands to himself is easier said than done...

Will Jessie shelve happily ever after like a rejected novel, or open her heart and start a new chapter?
Epic Dreams Publishing, LLC, 9781947561014, 310pp.
Publication Date: December 19, 2017
About the Author
Born and raised in Cincinnati, Ohio, Rochelle developed a love of nature, art and traveling. Snowbird grandparents first introduced her to Texas when she was a child. Her fondness for the state grew over the years. In college, she flip-flopped between interior decorating and creative writing. Alas, she chose decorating. She worked as a certified professional bra fitter through college and accumulated many interesting stories and a box full of goodies for her soon-to-be Prince. She made the long migration to Dayton, Ohio after marrying. Taking an early retirement as a decorator, she accepted the full-time position of mother. In 2008, when her youngest entered Kindergarten, she decided to get the stories out of her head. Midway through her first novel, hurricane Ike (yes, a hurricane in Ohio) rendered the laptop useless with a nine-day power outage. She didn't give up, but continued to pursue her dream. Rochelle shares her home with one cat, two high schoolers, three lizards, and her Prince. To learn more about Rochelle's books, please visit RochelleBradley.com.