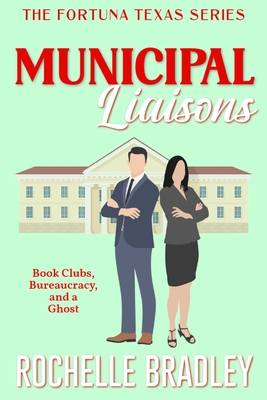 Municipal Liaisons
Paperback

* Individual store prices may vary.
Description
Book 4 in the romantic comedy Fortuna, Texas series.

She aspired to renew the town; he desired to revive her love life...

Who'd have thought Michaela Arschfick would like Texas? Particularly some Podunk town with the mighty Fire Ant as its mascot. But from first glance, Fortuna captivates Michaela. The longer she stays in the cozy town the more it feels like home, especially with the sexy, young mayor giving her VIP treatment.

With most of the residents, primarily men, keeping their noses glued to the pages of romance novels, they don't notice Fortuna needs a makeover. Michaela takes on the challenge of opening the eyes of City Hall to Fortuna's potential.

After his wife died in a flash flood, the mayor of Fortuna, Texas, Jasen Delay, delved into work. Two years later, he's still wearing the placating smile, but when a vaneoad of unban consultants visit the town... a beauty catches his eye.

Determined to keep their relationship professional, Jasen and Michaela must stymie their blossoming feelings and focus on revitalizing Fortuna's downtown. A nosy newspaper reporter, a perverted prankster, and sightings of Jasen's wife's ghost have Michaela second guessing her choice to stay. Jasen will do anything to keep Michaela in town. Fortuna needs her but, more importantly, Jasen needs her.

With Jasen's help, can Michaela wade through small town bureaucracy, solve the mystery of the canyon ghost, and learn to trust to her heart?
Epic Dreams Publishing, LLC, 9781947561069, 194pp.
Publication Date: February 3, 2020