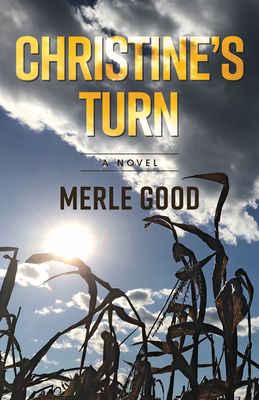 Christine's Turn
A Novel
Paperback

* Individual store prices may vary.
Description
A love story, told with poetic restraint and emotive coming-of-age themes.

Now in her senior year of university, Christine is caught between possibilities that open for her and her terror of failing. She has never met her father. Can she escape the depressing shadow of her mother?

When a new song she and Zach write for their little band becomes a big hit of sorts, she feels conflicted by the shallow celebrity it brings. Does she want this future?

Reluctantly she is drawn into a crusade to stop the development of a historic farm next door to her home. Is this her calling? Does she know what she's doing?

She can't forget Thomas, although he's upper class and she was born on the bottom rung. Does he see her as anything more than an interesting friend? Then Gordon re-enters her life and wants to marry her. Again.

Where does Christine belong? Will she ever get her turn? Does she even want it? Mama tells her to always aim lower to avoid disappointment. Others think she can excel. Is she bound to fail?

A gripping search for roots, meaning, and love.
Praise For Christine's Turn: A Novel…
"Merle Good's literary chops keep getting better and better. Riveting. Christine is a college senior, low on self-esteem and vague about her future and romance, as she tries to untangle her challenging past and her overlapping uncertainties. Can Christine seize new possibilities of love and meaning? Will purpose emerge in an unconventional musical career, or in taking a stand against a zoning land grab? A gripping tapestry of love, roots, and the complexities of family. Brimming with insight, compassion, and an elastic bandwidth that reaches both back into the past and beyond to the future. A lively read with likeable, believable characters. I hope they make this story into a movie like they did with Good's first novel" —Wally Kroeker Longtime Editor (retired), The Marketplace

"Nursing a crush on a guy she thinks is out of reach, Christine approaches college graduation plagued by questions about what to do with her life. Will she sell herself short? Or will she take the chance to build a life on her own terms? Is Christine a talented, fearless writer and performer? Or is she the bottom-rung daughter of a mother crushed by abandonment? Christine's Turn takes the reader on an endearing journey of self-discovery, demonstrating the power of caring relationships." —Diane Umble, Professor of Communication Emerita, Millersville University

"A compelling story of longing and belonging. As she struggles to define her future, Christine confronts the claims of the past and the expectations of others. This engaging novel explores identities both chosen and ascribed. The serenity of the Pennsylvania countryside belies the complicated lives of the characters who populate it." —Steven M. Nolt, Author and Professor, Elizabethtown College
Walnut Street Books, 9781947597488, 464pp.
Publication Date: March 29, 2022
About the Author
Merle Good of eastern Pennsylvania, is a writer, dramatist, and publisher whose books have sold nearly a million copies. His op-ed pieces have appeared in The New York Times, Washington Post, and Los Angeles Times. Academy-Award-winning actress Geraldine Page starred in the movie Hazel's People, based on Good's first novel. His play, The Preacher and the Shrink, opened Off-Broadway in 2013.