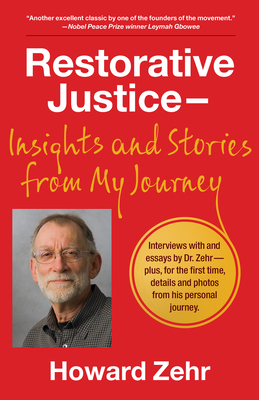 Restorative Justice
Insights and Stories from My Journey
Paperback

* Individual store prices may vary.
Description
Here, Howard Zehr offers his most complete view of Restorative Justice as an approach to all of life. Zehr made his initial contribution in the area of criminal justice by pointing out that victims are sidelined in the Western justice system. He emphasized, too, that society's laws for handling crime have often resulted in increased violence, more prisons, and unresolved human cost. In this book he: • Distills his pioneering and influential work in Restorative Justice as a game-changer for the criminal justice system and conflict of all kinds. • Joins his RJ work with what he's discovered in his additional career as a professional photographer and gatherer of people's stories. • Demonstrates how RJ practices can extend to all of human interaction—through Respect, Relationships, and Responsibility, along with Humility and Wonder. • Shows how RJ can change our personal lives, as well as our communities. This collection of Zehr's seminal thinking is approachable, convincing, and inspiring. A powerful guide to sustaining our life together.
Walnut Street Books, 9781947597525
Publication Date: February 7, 2023
About the Author
Widely known as "the grandfather of Restorative Justice," Howard Zehr began as a practitioner and theorist in Restorative Justice in the late 1970s at the foundational stage of the field. He has lectured and consulted in many countries. A prolific writer and editor, speaker, educator, and photojournalist, Zehr has actively mentored other leaders in the field. Dr. Zehr holds the position of Distinguished Professor of Restorative Justice and is involved in the field through the Zehr Institute of Restorative Justice at the Center for Justice & Peacebuilding, Eastern Mennonite University.