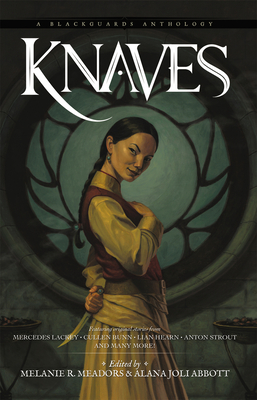 Knaves (Paperback)
A Blackguards Anthology
Outland Entertainment, 9781947659476, 287pp.
Publication Date: December 1, 2018
* Individual store prices may vary.
Description
A medieval swindler gets caught with his proverbial pants down; a foolproof plan to pick up some cash via AI, until things take an unexpected and deadly turn; a legendary bodyguard is hired to protect precious cargo, but who will protect the cargo from him? The protagonists of this short story collection are not all anti-heroes telling their side of the story. They are also heroic people faced with hard decisions, forced to reckon with darker sides of themselves. They are villains surprised to find they have a noble side to themselves, and they are those trying to atone for past evils they have done. The 14 brand new stories deal with the complex idea of morality and will make readers wonder what side is the right side. Featuring original stories from Mercedes Lackey, Cullen Bunn, Lian Hearn, Anton Strout, and many more!
About the Author
Alana Joli Abbott is an editor who has worked on a variety of projects including biographies, news articles, reference books, role playing games, and fiction. She is the author of the novels Departure, Into the Reach, and Regaining Home, the interactive multiple choice novel apps Choice of Kung Fu, Showdown at Willow Creek, and Choice of the Pirate, and she has written for the comics including Cowboys and Aliens II and Ithaca. She lives in New Haven, Connecticut. Melanie R. Meadors is the editor of anthologies including Hath No Fury, MECH: Age of Steel, and Tales of Excellent Cats: A Monarchies of Mau Anthology. She also writes fantasy stories which have appeared in various anthologies as well as novels, and blogs at The Once and Future Podcast. She lives in Worcester, Massachusetts.