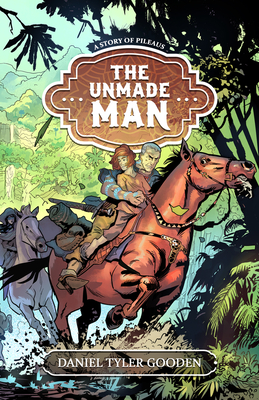 The Unmade Man (World of Pileaus)
Paperback

* Individual store prices may vary.
Description
The job should've been simple, but in Boruin's experience, nothing ever is. Somehow, the young mute boy he's been hired to bring in can read the mysterious runes on his arms. Somehow, this boy can create magic with them. And somehow, Bourin's blank past is suddenly full of questions he's desperate to answer. As a simple job transforms from betrayal into the beginnings of an epic journey, Bourin seeks out answers to his past with his trusted companions: Wraithe, a protector whose methods sometimes turn violent; Pile, a young relic-hunter; and Toaaho, sworn to Bourin's servitude with marks of his own. As they cross mysterious jungles full of monsters, floating forests full of flying sharks, and cave systems teeming with golems, Bourin begins to understand his fate is inexorably entwined with the boy's. But does that spell his salvation, or his doom? Life on the Pilean continent grows more interesting by the hour...
Outland Entertainment, 9781947659506, 293pp.
Publication Date: March 17, 2020
About the Author
Daniel Tyler Gooden is a writer who ranges between lit, fantasy and horror and is at the moment preoccupied with stories of personal and world apocalypse via: fire salamanders, Google-overlaid reality, internet marketing, VR living, and magic illogically springing into existence and spontaneously giving our favorite brands walking, talking, man-eating personas.