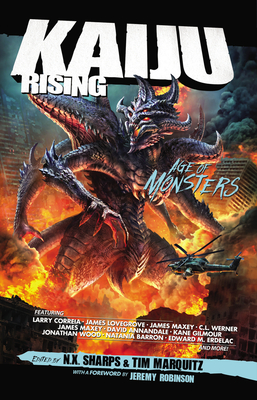 Kaiju Rising
Age of Monsters
Paperback

* Individual store prices may vary.
Description
Kaiju Rising: Age of Monsters is a collection of stories focused on strange creatures in the vein of Pacific Rim, Godzilla, Cloverfield, and more. Opening with a foreword by Jeremy Robinson—author of Project Nemesis, the highest selling Kaiju novel in the United States since the old Godzilla books—the collection features work from New York Times bestsellers to indie darlings. Authors include Peter Clines, Larry Correia, James Lovegrove, Gini Koch (as J.C. Koch), James Maxey, Jonathan Wood, C.L. Werner, Joshua Reynolds, David Annandale, Jaym Gates, Peter Rawlik, Shane Berryhill, Natania Barron, Mike MacLean, Timothy W. Long, Bonnie Jo Stufflebeam, Kane Gilmour, Peter Stenson, Erin Hoffman, Howard Andrew Jones, Edward M. Erdelac, and James Swallow.
Outland Entertainment, 9781947659797, 290pp.
Publication Date: October 1, 2019
About the Author
Tim Marquitz is the author of the Demon Squad series, the Blood War Trilogy, and co-author of the Dead West series. He is the co-owner of Ragnarok Publications. Jeremy Robinson is the bestselling author of more than 50 titles including The Sentinel, The Raven, and Torment. He lives in New Hampshire.