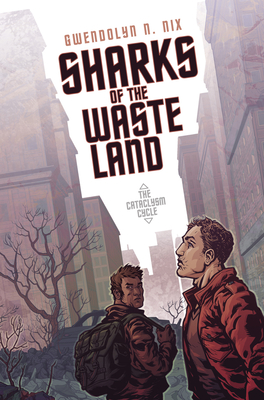 Sharks of the Wasteland (The Cataclysm Cycle)
Paperback

* Individual store prices may vary.
Description

In the wastelands that remain after the apocalypse...

Subject T—Thresher—never expected to be free from his life as an experiment, but now that he's escaped into the outside world—a world transformed after the Yellowstone volcano erupted—he's determined to never go back. Life as a genetically modified human never prepared him to face the dangers beyond the Facility, and he'll only survive if the fascinating outsider, Mako, agrees to bring him along on his journey.

Mako isn't sure what to make of the wanderer he finds, except that the naive man can't survive the environmental toxicity ravaging the landscape. That's not Mako's problem—not when there are warring tribes of survivors to maneuver, old enemies to confront, and an abducted sister to find. Yet when Thresher reveals clues leading Mako closer to his destination, he realizes that this wanderer—this experiment—changes everything.

The two wanderers must navigate more than just the inherent dangers of a post-apocalyptic world. A disease pulls what remains of society apart at the seams, and the remaining tribes are fractured, constantly competing for water and resources that will allow the strongest of them to rule. But two sharks might have the best chance to survive—and bring the world with them.
Outland Entertainment, 9781947659841, 300pp.
Publication Date: September 1, 2020
About the Author
Gwendolyn N. Nix has been an editor, casting producer, scientist, and social media manager, but always a writer. A born seeker of adventure, she saw her first beached humpback whale on a windy day in New York, met a ghost in a Paris train station, and had Odin answer her prayers on a mountain in Scotland. The Falling Dawn, her first fantasy novel, released in 2018 and her short fiction has appeared in StarShip Sofa, and anthologies such as Where The Veil is Thin, and The Sisterhood of the Blade. She lives in Missoula, MT. Find out more at www.gwendolynnix.com.