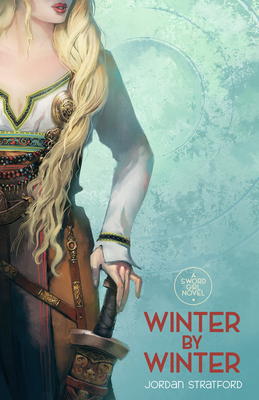 Winter by Winter (Sword Girl #1) (Mass Market)
Outland Entertainment, 9781947659964, 120pp.
Publication Date: March 24, 2020
* Individual store prices may vary.
Description
When the enemies of King Ragnar destroy Ladda's village, she'll do anything it takes to lead the survivors to safety—even agreeing to marry the king himself. But Ragnar and Ladda both quickly discover that there's more to her role than that of queen. As she assumes the burden of shield maiden and admiral of the Swanfleet, guiding her own ships among Ragnar's, her calling to battle becomes clear. She's been chosen, blessed by the goddess Skathi, and her enemies will fall before her blade… Winter by Winter brings to life Hladgertha, the historical teenage Viking pirate queen from the Chronicles of Saxo, and presents a heroine whose cunning and heart resonate across the centuries.
About the Author
Jordan Stratford has been pronounced clinically dead, and was briefly (mistakenly) wanted by INTERPOL for international industrial espionage. He has won numerous sword fights, jaywalked the streets of Paris, San Francisco, and São Paulo, and was once shot by a stray rubber bullet in a London riot. He lives in the crumbling colonial capital of a windswept Pacific island populated predominantly by octogenarians and carnivorous gulls (Victoria, British Columbia, Canada). He has been featured on c/net, io9, boing boing, WIRED, and Reading Rainbow and is represented by Silvia Molteni at Peters, Fraser + Dunlop in London.